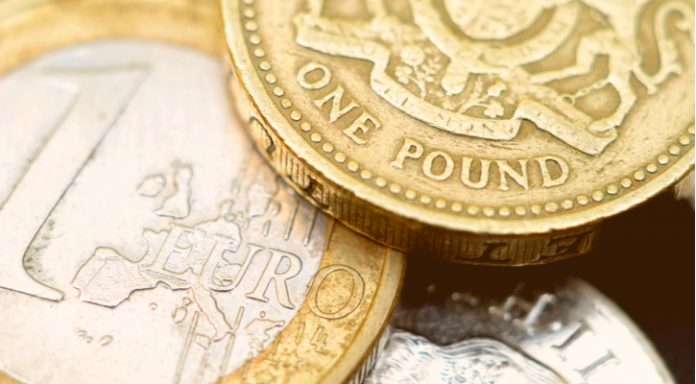 Brexit weighs on demand for the Pound (GBP) amid the realisation of the amount of work needed to get the UK no deal Brexit ready
UK GDP expected to rebound +5% month on mon in May after contracting -20.4% in April
Euro (EUR) looks to German inflation data and ZEW investor sentiment data
Eurozone sees green shoots of recovery giving ECB little reason to act
The Pound Euro exchange rate (GBP/EUR) trended steadily lower on Monday, settling -0.9% at €1.1070, the low of the day. At 05:15 UTC, GBP/EUR trades flat as investors look ahead to a busy day  for economic releases.
The Pound fell across the board at the start if the week as Brexit concerned lingered after little progress was made in talks last week. The UK government faces a huge task to prepare the UK for Brexit. These difficulties will only worsen between now and the end of the transition period.
The British government has less than 6 months to put the necessary infrastructure in place for Brexit. A £705 million package has already been announced to strengthen the Brexit boarder infrastructure. However, time is ticking, and talks are as the Irish Prime Minister stated, "getting to an urgent time frame".
Today attention is back on UK economic growth with investors awaiting the GDP release for May. The economy fell off a cliff in April, contracting -20.4% in the month of full on lockdown. However, May saw the slight easing of measures which analysts expect to be reflected to a rebound in growth. Expectations are for 5% growth month on month in May. A weaker than forecast reading could drag on the Pound.
The Euro traded higher versus its major peers boosted by a broad risk on sentiment across the previous session. Optimism surrounding the green shoots of recovery and a covid-19 vaccine candidate lifted the mood.
This week is a busy week for the Euro with high impacting data points, the European Central Bank meeting and EU leaders' summit all with potential to move the common currency.
Today German inflation figures and ZEW sentiment data will be closely followed.
---