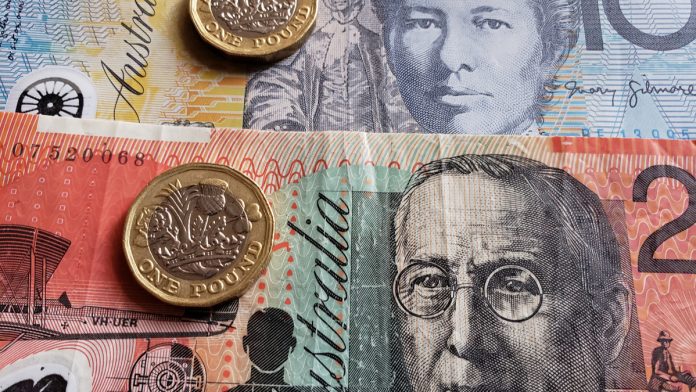 The British pound is lower against the Australian dollar on Monday.
China issues travel advisory against Australia
Aussie gains since China floods mean more government spending
BOE's Bailey worried about UK jobs
GBP/AUD was down by 74 pips (-0.40%) to 1.8061 as of 4pm GMT.
The currency pair pulled back from a 3-week high. Last week the exchange rate rose +0.99%.
GBP: Profit-taking after 2-week win streak
Sterling rolled over against most major currencies at the start of the new week. The losses were nudged on by the Bank of England's Bailey slightly dovish comments but more likely as a result of profit taking after a rare two weeks of gains over the Aussie. In fact, the last two weeks might just have been short-covering after 4-month stretch of loses in the pound-Aussie exchange rate.
Bank of England Governor Andrew Bailey addressed a school vent but said nothing too out of the ordinary, only voicing a worry about jobs.
With Donald Trump bearing a face mask for the first time in public over the weekend, Prime Minister Johnson who was famously name "Britain Trump by the US President made the first steps toward a U-turn on mask-wearing, saying "We do think masks have a great deal of value in confined spaces."
AUD: Tracks Wall Street higher
The Aussie dollar traded in sync with the S&P 500, which again traded positive for the year as investors ignored worsening virus cases in some parts of the world to focus on progress toward a COVID-19 vaccine. European indices too closed Monday with solid gains, all rising over 1%.
The gains came even as China issued a travel advisory against Australia, citing racism against Asian people. Chinese tourism plays a significant role in the Australian retail and tourism industries.
China Premier Leqiang noted that there was a steady recovery in China. The unchanged guidance would suggest loose fiscal and monetary is here to stay for the time being, which is good for the global economy and the Aussie dollar. Heavy rain across China, which saw 433 rivers flood probably, adds to the case for maintaining government spending.
---