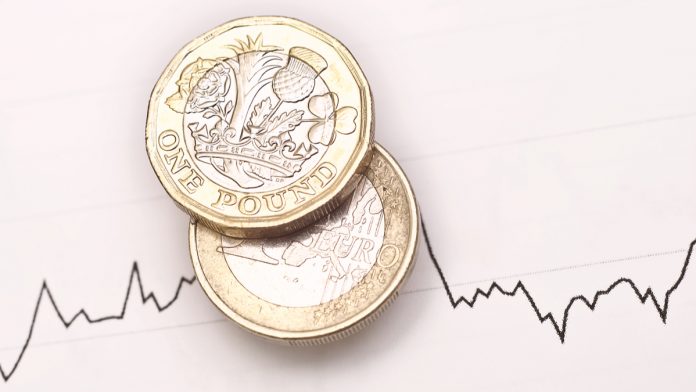 The Pound is depressed at the start of the new week, failing to hold onto last week's positivity. The Pound rallied just shy of 1% across the previous week versus the Euro.
The Pound versus Euro exchange rate closed on Friday at €1.1496, close to the weekly high of €1.1516, a level last seen at the beginning of March.
Today at 06:30, UTC GBP/EUR is trading -0.2% at €1.1480 ahead of a week where hard data from March and PMI figures for April are expected to set the tone along with another meeting of European finance ministers.
Pound Ahead of Busy Week Data wise
The Pound was trading around its highest level in a month last week after Boris Johnson was discharged from hospital and despite the Office for Budget Responsibility warning of the worst recession in 300 years.
However, the Pound is struggling on Monday as the British government remains very cautious about lifting the lock down which is paralysing the economy. The UK will remain in lock down for at least another three weeks. There have been some signs in improvements as the number of daily deaths reached 596 on Sunday, taking the total to over 16,000.
Today there is no high impacting UK data. However, on Tuesday the UK labour market data and particularly jobless claims will be watched closely for clues over the size of the impact on the economy.
The Euro Advances As German Covid-19 Numbers Impress
The Euro traded on the back foot across the board last week. Whilst Europe is managing to flatten the coronvirus curve, it is happening at a frustrating slow pace. Deaths in Italy and Spain remain above 500 per day. However, Germany appears to be having more success that its peers with the rate of infection continuing to slow and just 110 deaths were recorded on Sunday.
Parts of the Spanish economy are reopening, Germany has laid out its exit strategy France is expected to do so in the coming weeks. Whilst the European Commission have published guidelines for opening the economies, once again there is a noticeable lack of coordination.
This lack of coordination is also being noted on a political level. The Eurogroup of finance ministers failed to agree on coronabonds – Eurozone wide debt. This disappointed euro investors. The group is due to meet again on Thursday.
Looking ahead tomorrow's ZEW German sentiment data is expected to attract a lot of attention, with analysts forecast an historic drop in sentiment.
---