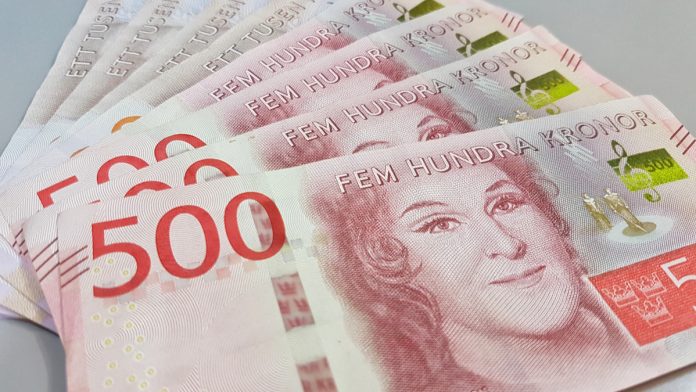 The Swedish Krona is clawing back losses after shifting lower versus the Pound across the previous week. The Pound Swedish Krona exchange rate jumped 0.8% to close on Friday at 12.4777, after recovering from a 7-week high of 12.6468.
At 06:45, GBP/SEK is trading down -0.2% at 12.4706, amid signs that the coronvirus outbreak could be stabilising in Sweden and ahead of a big week for UK economic data.
Pound Struggles On Lock Down Exit Caution
The pound advanced across the previous week as Prime Minister Boris Johnson was released from hospital, although he didn't return to work. The Pound even managed to gain despite the Office for Budget responsibility warning of the deepest recession for three centuries, as the coronavirus lock down paralyses the economy.
The government announced that the lock down will continue for at least another three weeks. The lack of an exit strategy and caution over re-opening the economy is weighing on demand for the Pound.
The number of UK coronavirus deaths increased by just 596, the lowest number of daily fatalities for two weeks, as the government adviser says many parts of the county are past the peak.
In addition to headlines surrounding the lock down exit strategy, investors will be looking ahead to hard data from March, starting with tomorrows labour market report. This report, particularly jobless claims, will be scrutinised closely for clues over the scale of the hit to the economy.
Swedish Krona Advances On Reports Of Herd Immunity
The Swedish Krona is advancing at the start of the week on upbeat coronavirus headlines. Reports suggests that Sweden's unusual approach to controlling coronavirus could be paying off. According to Sweden's top epidemiologist, Anders Tegnell, a driver of Sweden's more relaxed stance, the latest figure indicate that the death toll and rate of infection are stabilising.
Sweden has not imposed lock down, leaving restaurants, bars gyms and schools open and instead asking citizens to act responsibly. The death toll increased by 29 on Sunday to 1,540, whilst this is significantly higher than other countries in Scandinavia, it is also significantly lower than places like Italy and UK. Sweden's Public Health Authority are in agreement that the worse could be behind Sweden and Sweden could have herd immunity by next month.
The encouraging data is boosting confidence that Sweden could soon be returning to a more normal routine.
There is no high impacting Swedish data, investors will look ahead to tomorrow's unemployment reading.
---