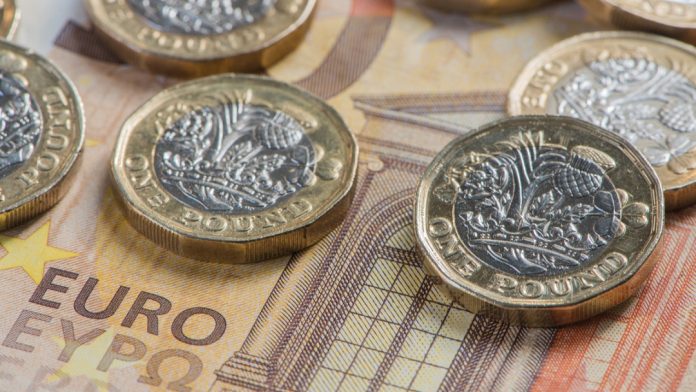 Despite both the UK and countries across the eurozone being closed for the Easter public holiday on Monday, the Pound advanced versus the Euro.
The Pound versus Euro exchange rate closed on Monday +0.6% higher at €1.1464 slightly off the five-week high of €1.1487, touched late in the session.
At 06:30 UTC, GBP/EUR is extending those gains, trading +0.2% at €1.1480.
UK Fatalities Decline For Third Straight Day
The Pound is pushing firmly higher, adding to gains from the previous session. There is no UK economic data due to be released today so investors will remain firmly focused on coronavirus statistics. The UK death toll has pushed over 11,000, with 717 more UK coronavirus deaths announced. However, the number of daily deaths has now declined for a third straight day.
The Pound is remaining resilient despite Dominic Raab confirming that the UK's coronavirus lock down will remain in place for another three weeks. He also warned that the UK is yet to reach its peak and for that reason the lock down measures will continue.
The Chancellor Rishi Sunak is one of the cabinet members pushing for an exit strategy amid fears over the size of the economic hit to the UK economy. Both the Bank of England and the Chancellor have announced enormous rescue packages to keep UK businesses from collapsing. However, Ex-bank of England governor, Lord Mervyn King, raised concerns over the government's emergency bailout system. Just 4,200 firms have so far received payment out of 300,000 applications. £800 million has been handed out compared to £146 billion to 725,00 in America.
Germany Looks For Exit Strategy
The Euro was on the back foot in the previous session as German Chancellor Angela Merkel comes under growing pressure to ease Germany's lock down and re-open schools. The daily death count in Germany dropped to 126, with 2537 new cases confirmed. This marked the third straight day of declines. Angela Merkel will hold a video conference on Wednesday amid calls for a clear exit strategy.
Meanwhile, Brussels seeks to avoid the fragmented approach from early stages of the crisis and is urging governments to co-ordinate their exit from the coronavirus lock down.
There is no eurozone data due for release today. Investors will look ahead to the release of German inflation data on Thursday.
---