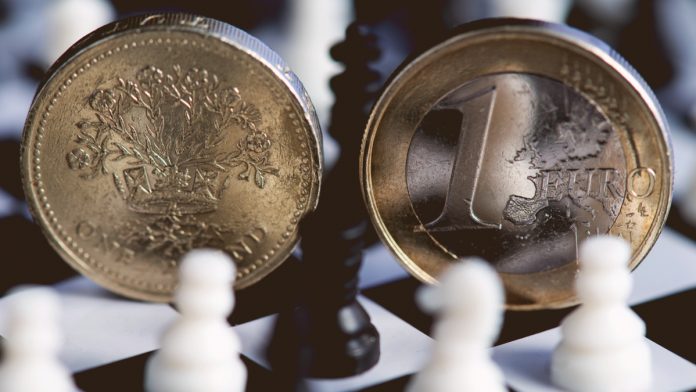 Pound (GBP) sees peak rates nearing
UK jobs data in focus next week
Euro (EUR) questions whether the ECB will hike again
German inflation cools to 6.1%
The Pound Euro (GBP/EUR) exchange rate is holding steady for a second straight day. The pair was flat yesterday, settling on Thursday at €1.1657 and trading in a range between €1.1625 – €1.1667. At 08:35 UTC, GBP/EUR trades -0.01% at €1.1656.
The pound and the euro are pretty evenly matched with the outlook in both economies looking bleak at best. Doubts are arising as to whether the ECB and the Bank of England will be able to hike interest rates again in this cycle.
This week, the pound came under pressure after BoE Governor, Andrew Bailey, hinted that the central bank could be close to peak interest rates. However, he did say that the door would remain open for further rate hikes should inflation stay persistently high.
Even so, the market latched onto the fact that the central bank may not be hiking rates, further putting pressure on sterling.
His comments, after data earlier in the week showed that business activity in the UK slowed at the steepest pace in seven months.
Attention now turns to date next week when the UK labour market figures could shed more light on whether record wage growth is starting to slow.
The euro has also traded under pressure as data continually points to a worrisome economic picture for the region.
Today, German inflation data showed that consumer prices cooled slightly to 6.1% year on year, down from 6.2% in July, confirming the preliminary reading.
The data comes after German industrial production yesterday slowed by more than expected in July and after the eurozone GDP was downwardly revised to 0.1% quarter on quarter. These figures came after PMI data earlier in the week showed that business activity contracted for a third straight month, raising the likelihood of a recession in the second half of the year.
Cooling inflation and stalling growth raises questions over what the ECB will like interest rates again at the September meeting next week.
---