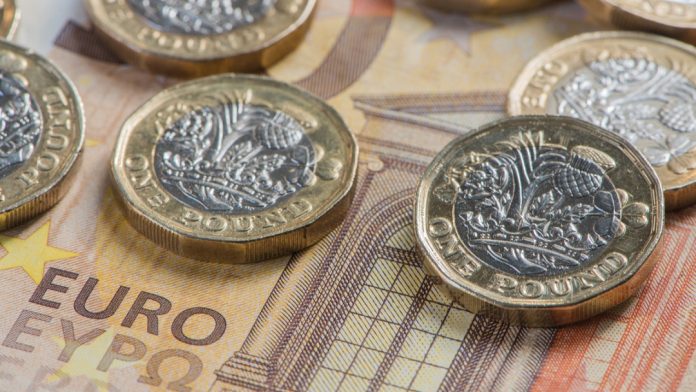 The British pound is higher against the euro on Friday morning.
UK retail sales jump in July
Eurozone August services and manufacturing PMIs disappoint
UK August PMIs smash above expectations
Post-Brexit trade talks update later today
GBP/EUR was lower by 37 pips (+0.33%) to 1.1174 as of 9am GMT. This week the pound-euro exchange rate is up +1.13%.
The currency pair jumped to a new 5-week high in early European trading, hitting 1.118 for the first time since July 10th.
GBP: UK data comes out on top
The pound looks on course for only its second weekly gain in six over the euro. This year any moments of Sterling-strength have been fleeting and often followed by steep sell-offs in ensuing weeks.
A jump in UK retail sales bolstered optimism about the rebound in the UK economy after lockdown conditions were eased. It was on July 4th that pubs and restaurants reopened across the UK, though with social distancing rules and restrictions in place.
July retail sales grew 3.6% over the month and were 1.4% higher than a year earlier according to stats released by the Office for National Statistics (ONS). A chart of retail sales growth year-to-date does look like the archetypal V-shaped recovery.
The upside in Sterling continued after services and manufacturing PMIs for August beat expectations by a wide margin. A composite reading of 60.3 represents the best growth in several years, and easily beat the 57.1 expected.
EUR: Eurozone PMIs miss expectations
The story in August was not so bright across the channel in mainland Europe where PMIs in both the services and manufacturing sector missed expectations. The flash Eurozone composite PMI for August came in at 51.6 when a reading much higher at 54.9 had been anticipated.
The clear contrast to be drawn between the UK and Eurozone PMI results played into the hands of the euro-pound currency pair. The differences may well be a matter of timing, because Europe encountered the pandemic first, its economic data dropped, recovered and is now plateauing first. That would suggest that August may be a highpoint for the UK economic rebound.
GBP Index Today - last 90 days
---