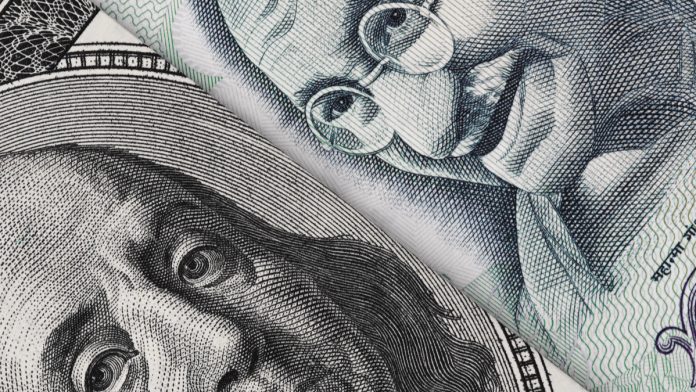 Indian Rupee (INR) moves lower as covid numbers surge and US – Chinese tensions remain elevated
Losses limited by falling oil prices, rallying equities
US Dollar (USD) trades lower versus major peers amid rising risk sentiment
US jobless claims numbers up next, 1.3 million initial jobless claims forecast
The US Dollar Indian Dollar exchange rate is extending gains for a third consecutive day. The pair settled on Wednesday +0.2% at 74.94. At 10:15 UTC, USD/INR trades back over 75.00, +0.15% at 75.05.
The number of coronavirus is India unnerving investors. 6 months after the first infection was reported, the number of cases now stands at 742,400 with 26,000 new daily cases recorded on Thursday. This is a record number, just weeks after the country eased rigid lockdown measures. With a population of 1.4 billion fears are rising that India will be the next hot spot.
US – China tensions are also dragging on the Rupee amid reports that the White House is considering banning Tik Tok and other Chinese social media apps to punish China over coronavirus.
Oil prices are proving to be supportive of the Indian Rupee. Crude oil trades -0.3% after Energy Information Association (EIA) data showed that US crude inventories swelled by 5.7 million barrels in the week to 3rd July. The Sensex is also trading over 1.2% higher.
The safe haven US Dollar is broadly out of favour versus its major peers as investors reain upbeat about the prospects of the US economic recovery, despite new daily coronavirus cases reaching almost 60,000 a day.
Vaccine news is keeping sentiment buoyed as Emergent BioSolutions becomes the latest company to move forward with its vaccine testing. Reports that Trump is also preparing for all schools to re-open in September has added to the upbeat mood.
Attention will now turn towards US jobless claims data which will provide clues as to how the US labour market is faring. Analysts are expecting initial jobless claims to increase by 1.3 million, down from 1.4 million last week. Continuing claims are expected to slowly edge lower to 18.9 million, down from 19.3 million. A lower number could boost risk sentiment further and drag the US Dollar lower.
---