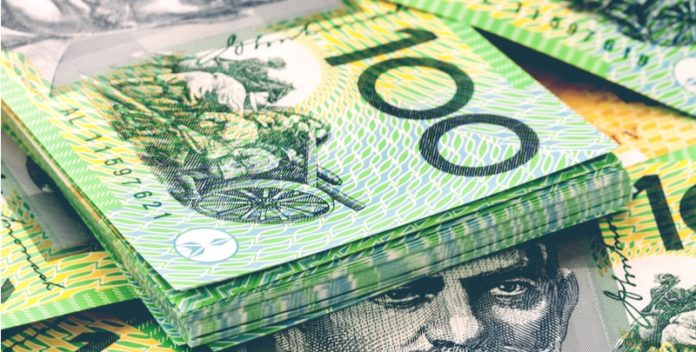 Australian Dollar (AUD) traded flat most of the session, supported by encouraging Chinese data, but weighed by the Melbourne lockdown.
US initial claims fall by the most in a month, continuous claims also beat expectations
US Dollar (USD) rises on hopes that Fed could tighten policy sooner than initially expected, although this is still a long way off
At 14:15 UTC, the Australian US Dollar exchange rate trades -0.2% at US$0.6966, falling sharply after trading near the flatline for most of the session. This is towards the lower end of the trading range US$0.6958 – US$0.7001.
The Australian Dollar was well supported for most of the session following data which showed that the Chinese economic recovery was on track. Chinese inflation at factory level (PPI) declined -3% year on year in May, an improvement on April's -3.7% decline. More importantly, the manufacturing sector showed that PPI increased by +0.4%, up from a -0.4% decline the previous month. The data boosted optimism that the Chinese economic is rebounding from the coronavirus crisis, this supported the China proxy the Aussie Dollar.
Whilst Chinese data supported the Australia Dollar, concerns the economic impact of the second lockdown in Melbourne was weighing on demand currency.
The US Dollar spent the European session in negative territory as investors sold out of the safe haven in search of riskier assets. However, the US Dollar surged higher following the release of upbeat US jobless claims data.
According to the US labour department, the pace of applications for unemployment benefits slowed again last week, with 1.3 million new claims, down from the week before's 1.4 million. It was the 14th straight week that initial claims have fallen since surging to 6.9 million in late March and the largest decline in a month.
The number of continuous claims, so the number of people actively collecting unemployment benefits fell more than expected to 18 million, against 18.9 million expected.
The data has eased concerns of a renewed downturn in the labour market after several large states including Florida and Texas reported a large pickup in coronavirus cases. The better than expected data boosted sentiment sending US stocks surging. However, rather than dragging on the safe haven US Dollar, the greenback jumped higher on optimism that the Federal Reserve could start tightening monetary policy sooner than initially expected.
---