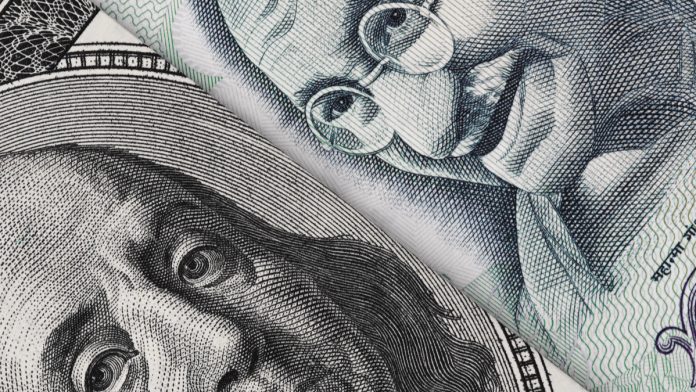 The US dollar is lower against the Indian rupee on Tuesday.
Hopes that the global economy is on the cusp of reopening spurred animal spirits in markets, helping currencies perceived as risky like the rupee and knocking the dollar.
A plunge in US consumer confidence and regional manufacturing data added to the downside pressure on the greenback.
USD to INR was lower by 25 pips (-0.35%) to 75.96 as of 4pm GMT.
USD/INR had been trading sideways with 76.2 as a midpoint but dropped suddenly in the afternoon, finally finding a base at 75.8.
Indian rupee gains after RBI supports mutual funds
The rupee has continued to benefit from the positive mood created across Indian markets by a new special liquidity facility introduced by the RBI on Thursday.
The facility was dedicated to helping mutual funds, which face the dual threat of lowered interested rates and redemptions from worried investors. Under the program banks can lend to mutual funds using the RBI's fixed repo rate or use the borrowed funds to buy mutual fund assets. Both of which would add much need cash to the balance sheet of the funds.
The measure has bolstered Indian stock markets including the Sensex and Nifty in the past two days because of the reduced threat of mutual funds being forced to liquidate shares at fire sale prices to meet their payout and redemption requirements.
US dollar  drops as consumer confidence plummets
The US dollar continues to face the dual pressure of the reduced need for a haven and disappointing US economic data. While data has been disappointing across the planet, the US dollar as the world's reserve currency puts the microscope on the US data, which has historically always been a bigger mover of forex markets than elsewhere.
April US Consumer confidence dropped to 86.9 versus 120 in March with the 'present situation' sub index crashing by more than half to 76.4 from 166.7, which is the lowest reading since 2014.
The Richmond Fed manufacturing index, a widely-watched gauge for manufacturing on the East Coast of the US plummeted to -53 in April from +2 previously.
---