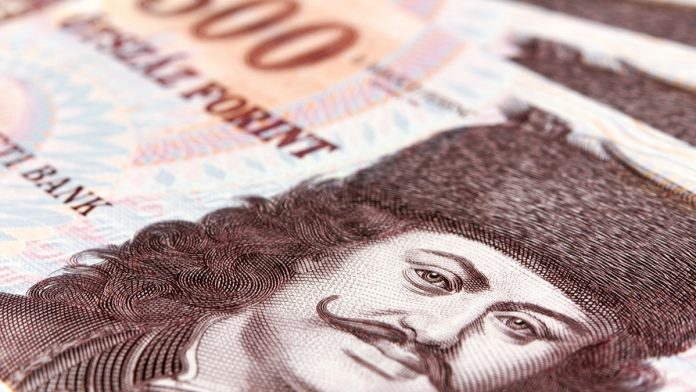 After weakening versus the US dollar on Monday, the Hungarian Forint is continuing its ascent on Tuesday. The Forint is has strengthened in 4 of the past 5 sessions, picking up from 330.35 last Thursday versus the greenback to today's best level of 322.21.
At 09:15 UTC, USD/HUF is trading -0.4% at 322.68. This is towards the lower end of the daily range of 322.21 – 324.29 on an upbeat mood in the market and as investors look ahead to the start of US earnings season.
Chinese Trade Data Lifts Sentiment
Risk sentiment received a boost on Tuesday owing to better than forecast Chinese trade data. Chinese exports for March declined -6.6%, whilst imports declined -0.9%. Analysts had been expecting a 14% drop in exports and a 10% plunge in imports owing to the coronavirus lock down hitting demand and supply. However, the fact that the data was less gloomy than expected has lifted the broad mood in the market. As a result, investors are more willing to take on risk and buy into perceived riskier currencies such as the Hungarian Front.
The boost from China overshadowed news that analysts at ING Bank are downgrading their GDP outlook for Hungary. The analysts are predicting a -3.2% contraction in 2020, down from a -0.8% contraction in their previous forecast, last month. The reason for the deeper contraction is in part owing to manufacturing PMI plunging to levels lower than that of the 2008/9 financial crisis. Furthermore, the bank considers the Hungarian government's rescue package to be small in terms of new money.
There is no Hungarian economic due for release today.  Investors will look ahead to the release of construction data on Thursday.
US Earnings Season To Boost Safe Haven Demand?
The safe haven dollar is edging lower amid an improved mood in the market following the Chinese trade data and as the talk in the US turns to co-ordinating an exit strategy from lock down. 10 US governors on the east and west coasts joined together to coordinate gradual economic reopening as the coronavirus crisis finally appears to show signs of easing.
Whether the good mood continues into the afternoon remains to be seen as US banks kick off earning season. Earnings are expected to be bad, if they prove to be worse than what analysts are forecasting then demand for the safe haven dollar could jump.
---