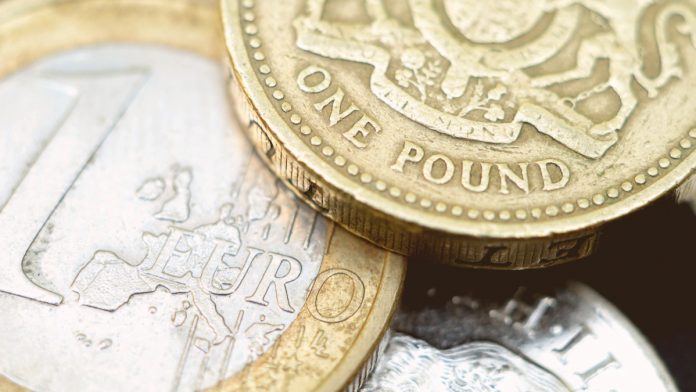 The Pound is slipping versus the Euro in early trade on Thursday. The tick lower comes after sterling jumped higher on Wednesday on new that Boris Johnson's condition was improving.
The Pound versus Euro exchange rate closed the previous session up +0.7% at €1.1408 after having struck its highest level in a week.
At 06:30 UTC, GBP/EUR is trading up -0.1% at €1.1392 as the UK daily death count soars and amid the prospect of a lock down extension.
UK Daily Fatalities Surge To 938
News that Prime Minister Boris Johnson was sitting up and breathing unaided boosted the Pound on Wednesday, as did a calmer market mood on hopes that a corner is being turned with coronavirus.
However, with daily coronavirus fatalities jumping to 938, higher than even Italy at its peak, Pound traders are struggling to remain so optimistic on Thursday. The Government's chief scientific advisor Angela McLean said that the latest figures show that the outbreak is not out of control. But this level of fatalities means that the current lock down will certainly be extended.
Ministers have said that they see no prospect of taking a decision to end the current lock down for weeks, despite the potential harm to the economy.
Investors will now look ahead to a slew of UK data, including industrial production, and monthly GDP. However, the figures all relate to February and prior to the covid-19 outbreak. Therefore, they could be considered out of date
Eurogroup Finance Ministers To Meet Again
The Euro trade broadly flat versus its major peers on Wednesday and is edging higher in early trade despite concerns over the health of the eurozone economy. According to forecasts published on Wednesday by leading research bodies, the German and French economies are in the grip of historic recessions which will wipe out years of growth in just a few short months.
The German economy is set to contract by around 10% in the second quarter, double the size of the drop in 2008 financial crisis. Meanwhile, the lock down in France amid the pandemic is knocking 1.5% off French growth for every two weeks it continues. After three weeks of lock down, French GDP is expected to have fallen at its sharpest rate since WW2.
Yet despite the huge economic damage that the coronavirus outbreak is causing, the Eurogroup of finance ministers failed to reach an agreement over a joint way forward. European Central Bank President Christine Lagarde urged the bloc's leaders to show greater solidarity.
The eurozone economic calendar is light with just German trade data. Investors will continue digesting coronavirus statistics and will focus on the reconvening of the Eurogroup of finance ministers
---