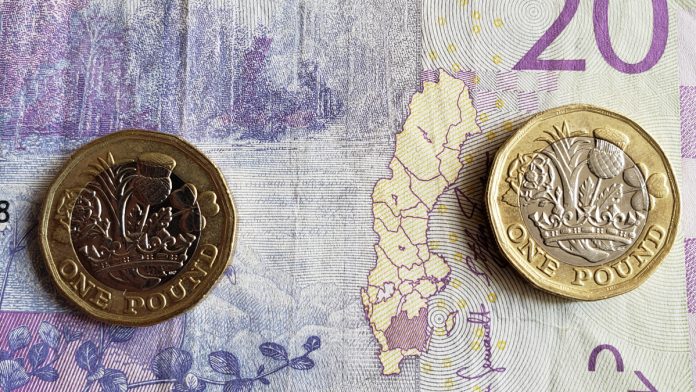 The Swedish Krona is holding steady versus the Pound in early trade on Thursday. The Pound Swedish Krona exchange rate surged in the previous session as Prime Minister Boris Johnson's health showed signs of improving. The pair closed Wednesday's session 0.7% higher at 12.4477.
Today at 06:45 UTC, GBP/SEK is trading -0.05% at 12.4750 as the UK daily death tolls spikes and ahead of a slew of UK data.
UK Fatalities Soar
Just as the Pound plummeted on new that UK Prime Minister's health had deteriorated, the Pound jumped on the news that Boris Johnson was sitting up and breathing unaided. A calmer market mood, on optimism that a corner was finally being turned with coronavirus helped to lift sterling on Wednesday.
The daily number of coronavirus fatalities reached 964, higher than even Italy at its peak, However, Pound investors found some comfort in the news that hospital admissions were falling and that new cases are not accelerating out of control, according to the government's deputy chief scientific adviser.
Even so, ministers have made it clear that there is no prospect of the UK ending lock down next week. The restrictive measures are likely to stay in place for weeks to come, despite the potential harm to the UK economy
Attention could now turn to a slew of macros data due for release including industrial production and the monthly GDP reading. However, these figures are for February and so are already considered out of date.
Swedish Household Consumption Increases
The Swedish Krona was under pressure in the previous session as household consumption data missed analysts' forecasts. Swedish consumption increased 0.4% month on month in February, up from a -0.3% contraction in January, but still well short of the 0.7% forecast.
The consumption data was for February, as coronavirus spilled out of China and into Europe.  The lift in consumption could be related to some stock piling ahead of the covid-19 hit. However, the data shows this was limited, which could be to do with Sweden's more relaxed approach to the virus.
The Swedish government has not implemented a lock down in Sweden to contain the spread of the virus among its 10 million population. The laissez-faire approach has attracted much criticism. However so far, the data isn't showing a rapidly spiralling death toll. Total deaths from coronavirus in Sweden stand at 696, with 8571 confirmed cases. Investors will be watching these statistics very closely to see if they shoot higher.
---