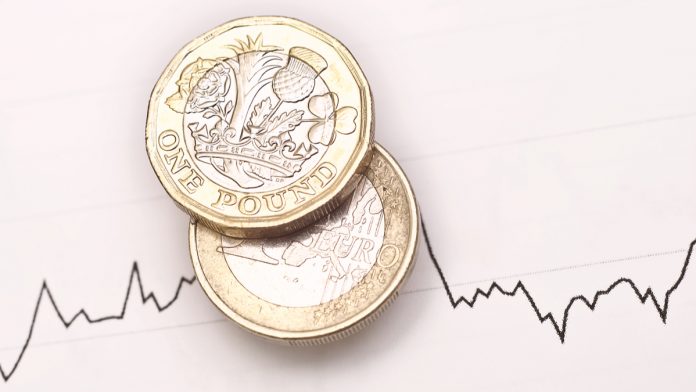 The British pound is higher against the euro on Thursday.
Higher stock prices, a surge of over 20% in the price of oil offered enough of a risk-on tone to allow Sterling to continue its two-week rally.
The pound has made a daily gain against the euro for eight days on the trot in a huge return to form after touching its lowest levels since the financial crisis.
Pound versus Euro was higher by 109 pips (+0.97%) to 1.1394 with a daily range of 1.1280 to 1.1420 as of 4pm GMT.
GBP/EUR dipped briefly below 1.13 before going on to surge 100 pips to over 1.14 for the first time in 4 weeks. Week-to-date returns stand at 1.95%.
GBP/EUR: British pound above 1.14 to euro for first time since March 11
Having already plummeted to historic decade lows, the pound is being seen as a relative haven from the potential currency weakness that could still strike the euro as well as other major currencies like the Japanese yen.
Nationwide reported UK House prices rose 3% in March, however the cut-off is in the first half of the month so doesn't capture the impact of Boris Johnson's government shutdown measures.
The UK coronavirus statistics continue to track the path being followed by other hard-hit European countries and offer no explanation for the strength in the currency. Deaths rose to 2,921 from 2,352 for the biggest gain so far.
Euro tumbles after Spain jobless spike
The news was pretty all-round terrible for the European Union's fourth largest economy on Thursday. The number of jobless claims skyrocketed while the number of coronavirus deaths spiked.
Spain's social security department noted a drop of 833,979 monthly contributors, the biggest decline ever as hundreds of thousands lost their job because of the pandemic.
Spain lost 950 people to the coronavirus in the last 24 hours. It marks the deadliest day yet for Spain, higher than the already awful 864 yesterday. That brings the total number of deaths to 10,000 people.  Little comfort can be taken from the steady 8% rise in the number of cases to 100,238 from 102,136 yesterday.
---