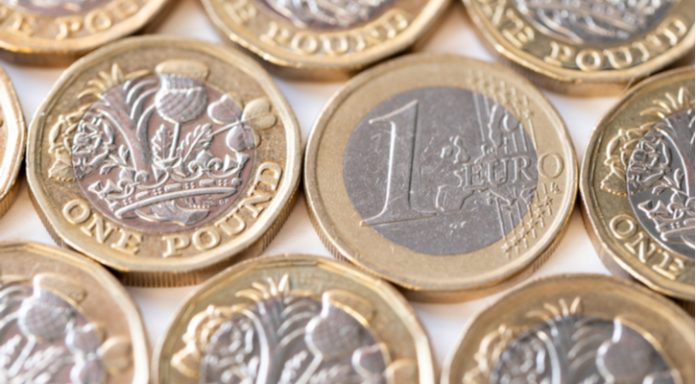 Pound (GBP) rose after the government borrowed less than expected last year
CBI industrial orders fall
Euro (EUR) is supported by hawkish ECB commentary
German consumer confidence is due
The Pound Euro (GBP/EUR) exchange rate is rising for a second straight day. The pair rose +0.06% in the previous session, settling on Wednesday at €1.1308, after trading in a range between €1.1264 – €1.1314. At 05:45 UTC, GBP/EUR trades +0.06% at €1.1315.
The pound rose against the euro after data showed that the UK government borrowed less than forecast in the financial year that ended in March. According to the Office for National Statistics, the government spent £139.2 billion or 5.5% of GDP; this is up from £121.1 billion or 5.2% of GDP in the year ending March 2022.
The data suggests that Jeremy Hunt, the finance minister may be able to move forward with tax cuts ahead of the next general election.
While the government borrowing data helped support the pound, this was offset by data that showed that British factory orders and output construction contracted again in April. According to data from the Confederation of British Industry, the monthly gauge industrial orders remind at a two-year low.
Today the UK economic calendar is quiet today which means that the pound will likely be driven by sentiment.
The euro slipped lower yesterday in a quiet day for economic data and despite more hawkish commentary from ECB policymakers. ECB chief economist Philip Lane said that the ECB will need to raise interest rates again at its next meeting, but the size of the move is still open to debate. His comments reiterate those of other ECB policymakers who have said that the central bank will weigh up a 25 basis point rate hike and a 50 basis point rate hike in May.
Looking ahead, German consumer confidence will be in focus and is expected to improve slightly in May to -27.9 up from -29.5 in April. Improving consumer morale comes those energy prices have eased from record highs and as Germany's increasingly expected to avoid a recession this year.
---