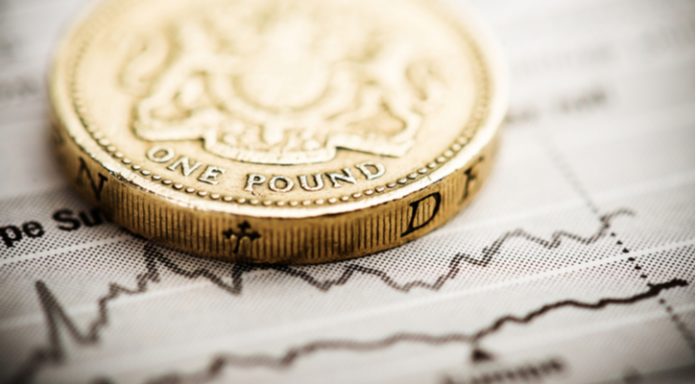 Pound (GBP) rises after PMI data is upwardly revised
BoE's Huw Pill's hawkish comments support GBP
Euro (EUR) falls after PMIs are downwardly revised
Eurozone inflation remains sticky
The Pound Euro (GBP/EUR) exchange rate is rising after three days of losses. The pair fell -0.05% in the previous session, settling on Thursday at €1.1265, after trading in a range between €1.1244 – €1.1298. At 05:45 UTC, GBP/EUR trades +0.23% at €1.1291 and is set to fall -0.2% across the week after gains last week.
The pound is pushing higher, boosted by comments from the Bank of England chief economist Huw Pill, who said that the UK economy is slightly stronger than expected. Pill said that recent data has broadly surprised to the upside, suggesting that the momentum in economic activity could be better than initially feared.
The pound is strong anger than expected composite PMI data, which is often considered a good gauge for business activity. The composite PMI was upwardly revised to 53.1 in February from a preliminary reading of 53. this was up from 48.5 in January.
The improved strength came from an output revision to the services business activity where the pm I was increased to 53.5 up from the preliminary reading of 53.3. The level 50 separates expansion from contraction.
Looking ahead, there is no more UK economic data. However, investors will focus on a speech by Bank of England policymaker Hauser.
The euro is edging lower after data showed that business activity in the eurozone rebounded at a slightly slower pace than initially expected in February. The composite PMI rebounded to 52 this was downwardly revised from 52.3 in the preliminary reading and up from 50.3 in January.
The data comes after eurozone inflation data yesterday showed that consumer prices cooled at a slower pace than expected. Eurozone CPI cooled to 8.5% year on year in February, down from 8.6%. Core Inflation which strips out more volatile items such as food and fuel, actually increased in February to 5.6% up from 5.3%.
ECB president Christine Lagarde said that the central bank would likely need to continue raising interest rates past March.
---