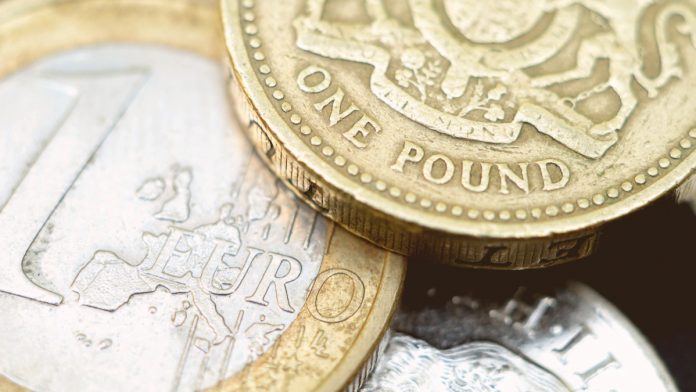 Pound (GBP) rose as the treasury moves forward budget plan
UK unemployment is expected to hold steady
Euro (EUR) fell after investor sentiment plunged
ECB Lane to speak
The Pound Euro (GBP/EUR) exchange rate is holding steady after gains in the previous session. The pair rose 0.2% yesterday, settling at €1.1374 after trading in a range between €1.1323 – €1.1564 across the session. At 05:45 UTC, GBP/EUR trades +0.02% at €1.1394.
The pound rose Monday in a quiet trading session. News that Chancellor Kwasi Kwarteng set a date for his budget plan around a month earlier than originally expected helped to boost demand for the pound. The Chancellor said that he will now set out the details of how he intends to bring down the debt in the UK on October 23rd, rather than later November. Independent economic outlook data from the Office of Budget Responsibility is also expected then.
Today attention is turning to the UK labour market report, which is expected to show that the UK jobs market remains resilient even as the economic picture in the UK worsens and the cost of living crisis deepens. Unemployment remains at the lowest level since the 1970's at 3.6% and is forecast to remain at this level. Meanwhile, vacancies are still high at 1.3 million, despite falling slightly last month.
High demand for workers is keeping wage growth strong and inflationary pressures high. Strong wage growth keeps pressure on the Bank of England to hike interest rates aggressively. The UK central bank is expected to hike rates by possibly 1% at the November meeting.
The euro held steady yesterday despite eurozone investors' sentiment tumbling in October. The Sentix investor confidence index unexpectedly dropped further to -38.3, down from -31.8. Analysts had forecast a slight improvement to -30.8.
There is no high-impacting eurozone data due to be released today. Instead, investors will be watching a speech by European Central Bank chief economist Philip Lane, for further insight as to whether the ECB will hikes rates by 75 basis points at the meeting later this week.
---