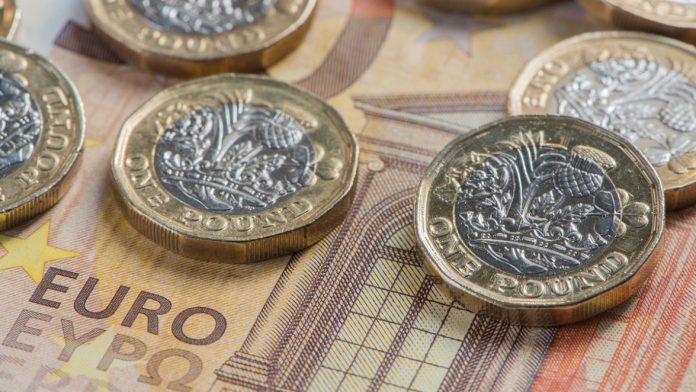 Pound (GBP) looks to inflation data
UK unemployment falls to a 48-year low
Euro (EUR) edges lower despite stronger GDP
Eurozone inflation data due
The Pound Euro (GBP/EUR) exchange rate is edging higher for a fifth straight session. The pair gained 0.3% on Monday, settling at €1.1839 after trading in a range between €1.1799 – €1.1914. At 05:45 UTC, GBP/EUR trades +0.03% at €1.1840
The Pound surged higher in the previous session following upbeat UK jobs data. The unemployment rate in the UK fell to -3.7%, down from 3.8%, marking a level that was last seen 48 years ago. Furthermore, there are now more vacancies than unemployed people in the UK for the first time since records began.
With the jobs market tight, average wages, including bonuses, jumped to 7%, raising concerns over the inflationary impact of higher wages. However, regular wages are rising at 4.2%, which is actually a pay cut in real terms.
Today's attention is now turning to UK inflation data which is due to be released shortly and is expected to show that inflation rose to 9.1% year on year, up from 7.1% in March. The rise in inflation comes amid growing fears of a recession in the UK.
Earlier in the week, BoE governor Andrew Bailey warned over double-digit inflation as growth slumps. GDP stalled at 0% in February and contracted 0.1%month in March.
The Euro slipped in the previous session despite stronger than forecast economic growth in the first three months of the year. Eurozone Q1 GDP was upwardly revised to 0.3% quarter on quarter, up from 0.2%.
The more upbeat data comes after ECB policymaker Klass Knot suggested that he would consider a 50 basis point rate hike should the data show that it was needed. Momentum is building at the ECB for an interest rate hike as soon as July.
Looking ahead, eurozone consumer prices will be in focus and are expected to confirm the 7.5% year-on-year preliminary reading. Hotter inflation would likely boost expectations of a July hike.
---