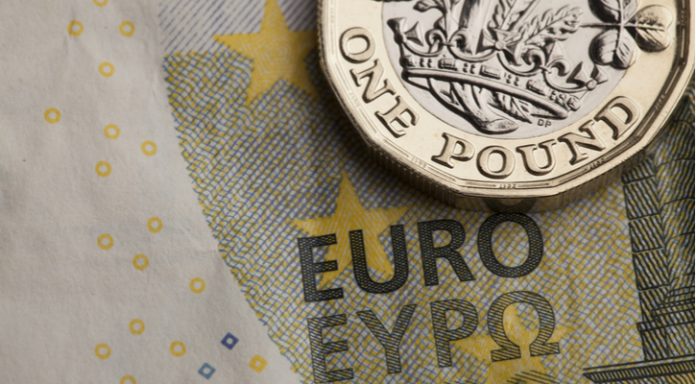 Pound (GBP) dragged lower on Brexit concerns
Relations deteriorate between UK & EU
Euro (EUR) rises even as ECB pushes back on rate hike
EZ & German GDP, Eurozone CPI due
The Pound Euro (GBP/EUR) exchange rate is rebounding after large falls in the previous session. The pair settled -0.35% lower on Thursday at €1.1801 towards the end of the daily range. At 05:45 UTC, GBP/EUR trades +0.14% at €1.1818. The pair is set to end the week at roughly the same level that it started.
The Euro rose higher despite the European Central Bank pushing back on investor expectations of an interest rate hike next year. The markets are currently pricing in an interest rate hike of 0.1% by September next year.
ECB President Christine Lagarde acknowledged that elevated inflation dominated discussions at the central bank. However, she also said that the ECB arrived at the conclusion that the rise in inflation is transitory and the prices will fall next year. These comments come as German inflation reached a 28 year high of 4.6% and in Spain hit 5.5% a 37 year high.
This view is in contrast to that of other central banks such as the Bank of England and the US Federal Reserve which have both signaled that they could move towards tightening monetary policy sooner.
Looking ahead German GDP data and Eurozone consumer prices will be in focus. Consumer prices are expected to rise even higher to 3.7% across the bloc. Meanwhile GDP in the bloc is expected to have slowed considerably to 2% quarter on quarter, down from 2.2%.
The Pound came under pressure amid troubling headlines over Brexit. According to several new sources the UK government is gearing up for a clash with the EU over the Northern Ireland. The government is looking into the potential fallout from suspending Northern Ireland co-operation. This comes amid deteriorating relations between the UK and the EU.
There are suggestions that the government could trigger the Article 16 get out clause as soon as mid to late November following the COP26 climate change summit.
The UK economic calendar is quiet again tomorrow so investors will remain focused on Brexit and any further developments.
---