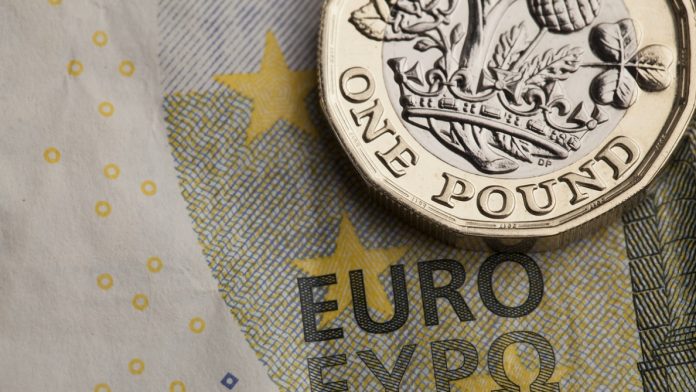 Brexit & covid restrictions drive the Pound (GBP)
UK unemployment data in focus
Euro (EUR) underpinned by upbeat sentiment & strong industrial production data
Mid-tier data and covid headlines to drive movement
The Pound Euro (GBP/EUR) exchange rate is advancing extending gains from the stat of the week . The pair settled on Monday +0.5% at €1.0968 after having eased back from a session high of €1.1056. At 05:15 UTC, GBP/EUR trades +0.1% at €1.0982.
The Pound rebounded firmly in the previous session on Brexit optimism as Brexit talks continued past the Sunday deadline, raising hopes that the two sides might still reach a last minute trade agreement.
According to headlines a post Brexit trade deal could be reached as early as this week after a key concession from UK Prime Minister Boris Johnson. Whilst Boris Johnson's acceptance of an evolution clause as standards diverge has been a central point in moving talks forward, difficult issues still remain.
The Pound eased of highs as it was announced that London and some surrounding counties will move back into Tier 3 lockdown restrictions as covid cases continue to rise steeply in the capital.
Attention will now turn to UK unemployment data. Unemployment levels have been rising steadily over the past few month, climbing from 4.1% in August to 4.8% in September, this trend is expected to continue over the coming weeks and months.
The Euro traded mixed in the previous session, whilst it slipped versus the Pound, the Euro gained ground versus the US Dollar. The upbeat market mood was broadly supportive of the common currency, despite lockdown restrictions tightening, particularly in Germany, which will enter into a hard lockdown on Wednesday until January 10th.
Data was also supportive of the Euro with Eurozone industrial production increasing an above forecast 2.2% month on month in October, ahead of September's upwardly revised 0.1%.
Looking ahead French and Italian inflation figures could attract some attention but risk sentiment is likely to be the biggest driver of the Euro.
---