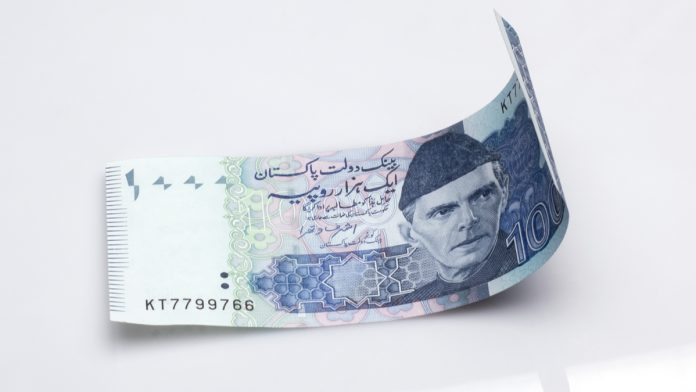 Pakistan Rupee (PKR) around levels last seen in May
Pakistan's fiscal deficit stood at 1.1% GDP July – Sept period
US Dollar (USD) trades lower in risk on trading as Biden wins US election
Biden plans big spending and tax hikes although a split Congress would water his plans down
The US Dollar Pakistani Rupee (USD/PKR) exchange rate is trending lower at the start of the week extending losses from the previous week. The pair shed -0.7% last week settling on Friday at 160.00. At 09:15 UTC, USD/PKR trades -0.6% at 159.00. The pair has been falling for the past 6 consecutive weeks.
Data revealed that Pakistan's fiscal deficit stood at 1.1% of GDP in the July – September quarter, up from 0.7% of GDP in the same period last year. Fiscal revenues were down by 1% whilst expenditure is up by a significant 15%.
The higher deficit is due to increased government spending of coronavirus related relief packages, low taxation growth and higher debt servicing, despite the fact that interest rates have halved. Debt servicing is expected to come down in coming quarters.
The biggest gain for the Federal government has been through its petroleum levy, up by 110%. Low oil prices have cushioned the government allowing it to fully utilise the Petroleum levy,
The US Dollar is trending lower across the board, as investors cheer Joe Biden winning the US election. The board in risk on trade in financial markets is supporting the riskier Pakistani Rupee, whilst dragging on demand for the safe haven US Dollar.
Joe Biden won the key battleground state of Pennsylvania over the weekend, seemingly putting an end to the tight race to the White House and an end to the political uncertainty which has dragged on the markets over recent months.
Joe Biden is expected to have less confrontational policies than Trump whilst optimism is also growing over fiscal stimulus and more easy monetary policy from the Fed. Biden is ledging large scale spending in healthcare, education and infrastructure projects. Biden is also in favour of major tax hikes. However, if Congress remains split then these policies will be watered down.
---