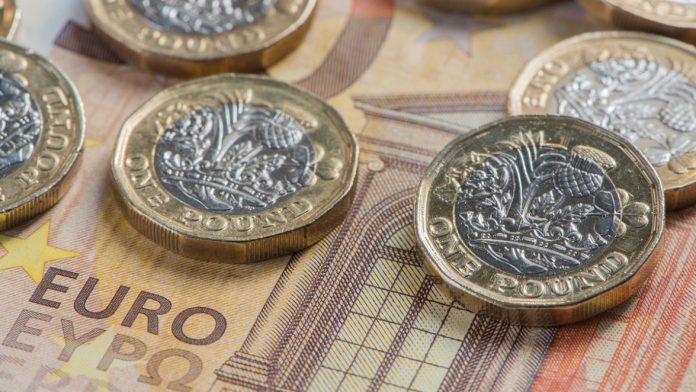 Pound (GBP) supported by Chancellor Rishi Sunak's Summer Statement
Brexit mixed messages after Angela Merkel warns little progress has been made in the latest round of Brexit trade talks yet reports on BBC increased hopes of a deal
Euro (EUR) looks ahead to German trade data after upbeat comments from ECB Vice President Luis De Guinodos
Borrowing costs for peripheral Europe fall to pre-coronavirus levels
The Pound Euro exchange rate (GBP/EUR) settled on Tuesday +0.04% at €1.1132, close to the high of the day. At 05:15 UTC, GBP/EUR trades -0.1% at €1.1115.
The Pound experienced a volatile session on Wednesday, picking up off session lows following Chancellor Rishi Sunak £30 billion spending plans to boost the UK economy out of the deepest downturn in 300 years.
Rishi Sunak spelt out plans help the coronavirus battered economy through cut taxes for homebuyers, and targeted VAT cuts supporting the hospitality and leisure industry and a retention scheme for employers which re-hire workers, among other measures. Rishi Sunak's plans went down well with investors. Solid fiscal stimulus combined with monetary stimulus should mean that the coronavirus impact is reduced.
Brexit headlines are mixed providing little direction. Germany's Angela Merkel told the EU to prepare for a no deal Brexit. However, the BBC boosted optimism over "special provisions" with Europe over Ireland, suggesting that progress is being made towards an agreement.
The Euro is pushing higher across the board as the cost of borrowing for the Eurozone's riskiest countries is declining back to levels last seen before the coronavirus crisis. The spread between the German – Greek yields fell to 1.53, the lowest level since February. Meanwhile the Italian – German spread also fell to a 4.5 month low.
This means that the bond market is no longer reflecting the stress of the coronavirus crisis. It has been priced out. This is down to the ECB buying up 1.35 trillion of assets as part of its Pandemic Emergency Purchase Programme and its €20 billion bond buying programme.
The data comes after European Central Bank vice president Luis De Guinodos expressed some optimism surrounding the prospects of economic growth in the region following on from the more upbeat data releases.
Today attention will turn back to the economic calendar with the release of German trade data.
---