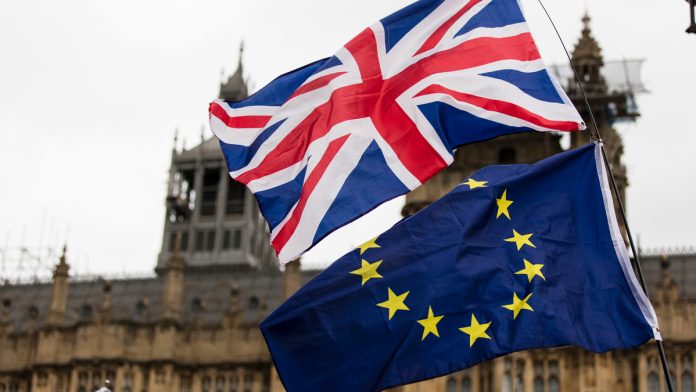 The British pound (GBP) is lower against the Euro (EUR) on Monday.
'Intensive phase' of Brexit talks begin
EU to release 'coronavirus safe' countries for travel Tuesday
Germany / Spain CPI top expectations
Pound-euro exchange rate fell -0.56% last week
GBP/EUR was down by 80 pips (-0.73%) to 1.0905 as of 3pm GMT.
Having given up the 1.10 handle, the currency pair went on to make fresh 3-month lows – only to find some support near 1.09.
GBP: Brexit negotiations enter 'intensive phase'
Some disappointing mortgage data and fresh concerns about the state of Brexit negotiations saw the pound topple over to new 3-month lows versus the euro, reaching a 1.08 handle for the first time since late March.
The pound-euro exchange rate has fallen for four straight weeks and for seven of the past eight weeks.
Brexit might explain some of the new weakness in the pound as UK Chief Negotiator David Frost arrived in Brussels for an 'intensive phase' of talks starting today. An EU Commission spokesman said: "Our overall message this week, but also for the coming weeks and coming months, is to intensify our negotiations in order to make progress to get a deal."
UK May mortgage approvals came in significantly lower than forecast, suggesting that the pent up demand for UK houses may be stalling after a rebound in May.
EUR: EU to publish 'coronavirus-safe' countries list for travel
There was some better news for the European economic reopening on Monday that may have offered some support to the euro. It was announced the new list of countries for travel would be made public tomorrow. According to Spanish foreign minister, Arancha Gonzalez Laya, the list of coronavirus-safe countries for travel purposes will be ready by Tuesday.
German inflation came in hotter than expected for June. That limits the immediate need for euro money printing to ward of deflation. The Germany June preliminary CPI rose +0.9% year-over-year versus the +0.6% y/y expected. Spain is experiencing deflation, but at a slower rate than expected. Spain June preliminary CPI fell -0.3% versus -0.5% y/y expected.
---