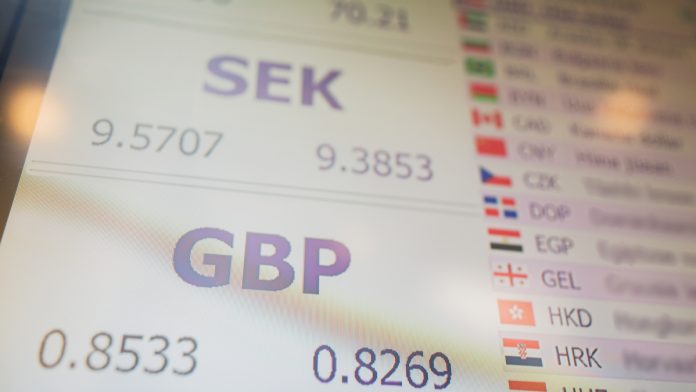 The Swedish Krona is advancing versus the Pound in early trade on Tuesday after slipping lower on Monday. The Swedish Krona settled in the previous session -0.3% lower at 12.4522, after trading a range of 12.4101 – 12.4860.
At 06:15 UTC, GBP/SEK is trading -0.1% at 12.4364 as investors look ahead to the release of Swedish retail sales and ahead of the Riksbank monetary policy announcement.
No Cut Expected
The Swedish central bank is not expected to cut interest rates to support the Swedish economy through the coronavirus crisis, despite Sweden facings its deepest recession since World War 2, unemployment soaring and inflation sinking.
The Riksbank is seen leaving the rate unchanged at 0% after having raised the benchmark rate back in December. Some analysts expect the Riksbank to announce other measure to cushion the economy such as boosting its quantitative easing programme.
Sweden has not adopted the hard lock down approach to covid-19 that other European countries have implemented. However, some companies have closed their factories and consumers reined in their spending cutting back on restaurant visit and travel.
The economy is expected to shrink by -7% this year, topping the -4.2% contraction during the financial crisis. Inflation Is also expected to drop to 0, far from the central bank's 2% target. However, the Riksbank have only just brought the rate out of negative territory after 5 years so are reluctant to return to that position.
In addition to the Riksbank announcement, Swedish retail sales are also due to be released. Investors are expecting a -2.8% decline in retail sales month on month in March. This is significantly down from February's 0.2% increase, as the data reflects the social distancing measures that Swedish people are adhering to.
Boris Johnson's Exit Plan Awaited
The Pound is trading on the back foot after Prime Minister Boris Johnson returns to Downing Street to lead the government after recovering from coronavirus but fails to ease lock down restrictions. With the daily death toll down at 360, the lowest level since March 30 and with the UK economy showing signs of huge strain, pressure is on the Prime Minister to produce and exit plan.
---