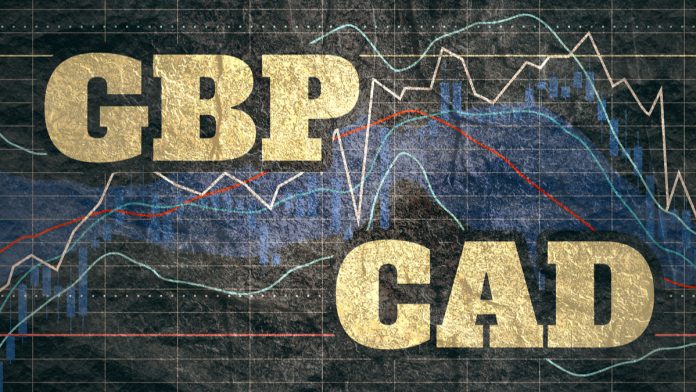 GBP/CAD has been moving sideways on Thursday, though the pair turned negative a few minutes ago. Currently, one British pound buys 1.7446 Canadian dollars, down 0.09% as of 11:45 AM UTC. The price hasn't been trending since the end of March.
Today, the pound has weakened slightly after the UK released a series of disappointing economic updates.
The Confederation of British Industry (CBI) said that its quarterly measure of business optimism tumbled to a record low at -87 in April, from +23 in January. The report has been published regularly since the 1950s. The pessimism is driven by the coronavirus pandemic, which has caused many companies to shut down.
CBI economist Rain Newton-Smith commented:
"Manufacturers have taken a sharp hit during the shutdown in response to COVID-19, with this survey revealing some record lows. Given the uncertainty over how long the shutdown may have to last, it's little surprise to see businesses putting investment plans on ice as they work hard to get through this intact."
UK's Services PMI to Record Low at 12.9
Separately, IHS Markit's flash purchasing managers index (PMI) data suggested that the British economy contracted at the fastest pace in two decades. Services PMI collapsed to 12.9 from 36 in March, while manufacturing PMI tumbled to 32.9 from 47.8 in March. Both indicators dropped to a record low and anticipate a worse crisis than in 2008.
Bank of England (BoE) Governor Andrew Bailey admitted that the economy might plummet 35% in the second quarter. Also, the recovery would be slow and gradual.
BoE policymaker Jan Vlieghe said that Britain is facing its deepest economic shock in centuries. The worrying thing is that a prompt rebound might not be possible. However, everything depends on how the pandemic evolves.
"The economy's potential is severely disrupted at the moment but, once the pandemic is over, and other things equal, in principle it should return approximately to the pre-virus trajectory," Vlieghe said.
The composite PMI, which merges the manufacturing and services industries, fell to 12.9 from 36.0 in March, while analysts expected a modest decline to 31.4. ING economists stressed that these were shocking figures.
As for the Loonie, it has been dragged down by tumbling oil prices for most of April, though both crude brands has increased today.
---