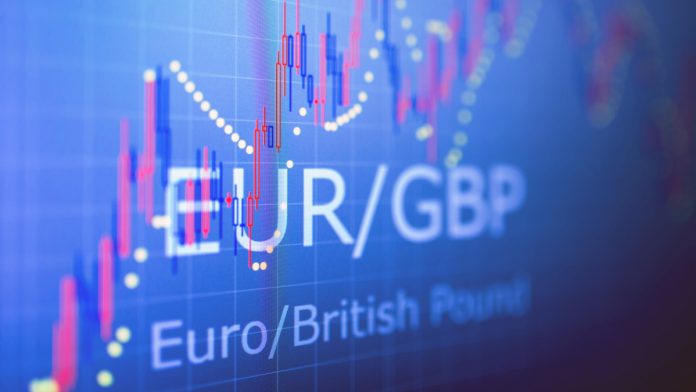 The British pound is higher against the euro on Thursday.
The biggest countries in Europe from the United Kingdom to France to Germany all recorded the steepest declines in business activity since PMIs were first collected over twenty years ago.
With all the disappointing economic data, it was the pound that managed to nudge up over the euro, mainly on the improved risk sentiment in broader markets.
Pound to Euro exchange rate was up by 45 pips (+0.40%) to 1.1438 as of 4pm GMT.
GBP EUR gained steadily on the day from below 1.14 to above 1.145 but remained well off 1.15. Yesterday the exchange rate gained +0.64%, leaving it down on the week by -0.53%.
British pound gets an edge as oil rebounds
A massive 50% rebound in the price of oil over two days has helped lift stock markets and marginally improved the prospects for currencies perceived to be riskier like the pound.
The currency was resilient to some truly shocking survey data from purchasing managers in April (PMIs). The flash reading for the UK manufacturing PMI fell to a record low of 32.9 in April, down from 47.8 in March.
The real shocker was in the service sector, which is more people-orientated and so unsurprisingly has been hardest hit from the lockdown and social distancing. The flash reading for UK services PMI in April slumped to a record low of 12.3 from 34.5 previously. The numbers are significantly below the previous record lows recorded in the 2008 financial crisis. As a reminder, a reading below 50 denotes contraction.
Euro dumped on record low PMI data
With businesses in Europe facing the same exact headwinds during the lockdown as the UK, activity was just as bad. Looking at so-called composite PMIs which combine both services and manufacturing, both French and German reading fell to record lows by a significant margin. The French composite PMI for April fell to 11, down from 28.9 in March. In Germany the reading was 17.1, down from 35 previously.
Chris Williamson, Chief Economist at IHS Markit who compiled the data predicted that Europe would "record the fiercest downturn the region as seen in recent history."
---