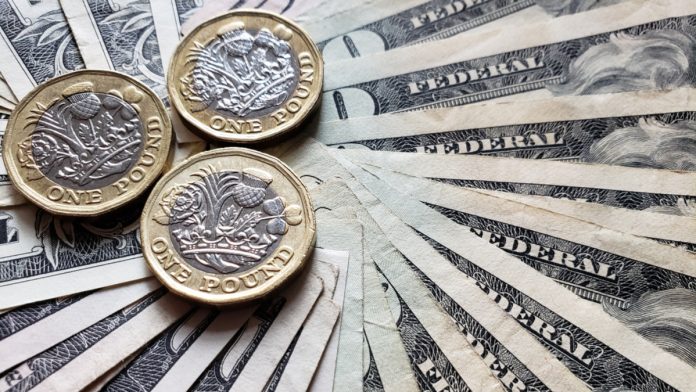 The Pound is extending gains for a second consecutive session on Thursday. The Pound to US Dollar exchange rate settled the previous session +0.3% at US$1.2334.
At 07:30 UTC, GBP to USD is trading +0.2% higher at US$1.2348 as investors digest an additional US relief package and look ahead to UK PMI data and US initial jobless claims.
GBP/USD: Record Low Service Sector PMI
With UK coronavirus daily deaths remaining stubbornly elevated, any hopes of an early release from lock down have been dashed. In fact, with no exit strategy yet in place investors have even more reason to look closely at today's IHS Markit/CIPS purchasing managers index.
The UK service sector is the dominant sector. It accounts for around 80% of economic activity in the UK. In March, the service sector PMI showed that the sector contracted at the fastest pace on record. The index plunged to 34.5 after the UK went into lock down on 23rd March, causing the service sector to stall. The service sector PMI for April is expected to reveal that the sector dived deeper into contraction, recording 29 in the flash reading.
The manufacturing sector hasn't been affected as badly as the service sector. The PMI for March showed that activity contracted to 47.8. April's reading is expected to show a deeper contraction to 42 on the index. Weak readings could drag on the Pound sharply lower, particularly as there is no plan to end the current conditions.
4.5 Million Initial Jobless Claims
The US Dollar is easing across the board on Thursday after a new relief package worth $484 billion moved a step closer to implementation. Today, the House of Representatives is expected to clear the deal, which is aimed at providing support to small companies to pay their workers during lock down. This package should help to bring unemployment levels down.
Investors will turn to US Jobless claims data this afternoon. So far 21 million Americans have signed up for unemployment benefit. This equates to around 13% of the workforce. Analysts are expecting an additional 4.5 million Americans to sign up in the week ending 17th April. A worse figure could boost demand for the safe haven US Dollar.
---