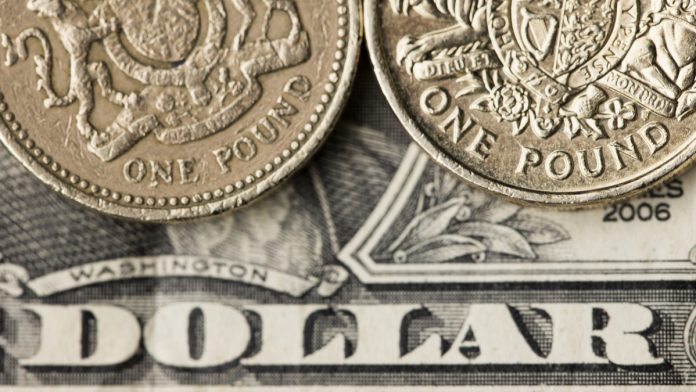 The Pound is declining versus the US Dollar at the start of the week, after advancing 0.4% across the previous week. The Pound versus US Dollar exchange rate closed on Friday at US$1.2501, after hitting a 5-week high early in the week of $1.2648.
At 07:30, GBP/USD is trading -0.4% at US$1.2450 ahead of a busy week for UK data and as risk sentiment slips.
Pound Slips On Government Caution To Re-open Economy
The Pound is trading on the back foot amid concerns over caution expressed by the British government on re-opening the UK economy. The government has announced that the lock down will continue for at least another three weeks. Investors' attention will turn increasingly towards the UK exit strategy. The lack of any exit strategy is unnerving Pound traders.
The daily number of coronavirus fatalities increased by 596 on Sunday, the lowest level in two weeks, as government advisers say that many parts of the country have passed the peak. Yet despite the decline in deaths, new cases were up slightly at 5850.
This week hard data for March and PMI figures will be in focus as the UK is expected to see a deeper and quicker hit to the UK economy than in the 2008/9 Financial Crisis.
While the there is no high impacting data today, investors will look ahead to tomorrow's labour market report. The claimant count change, also known as jobless claims, will be watched particularly closely as it could reflect how covid-19 is affecting the UK labour market. On Wednesday, inflation data and retail sales will be in focus, which on Friday PMI readings are expected to drive movement in the Pound.
US Dollar Boosted By Safe Haven Properties
The Safe haven US Dollar slipped across the previous week as investors shrugged off dismal data, opting to focus on growing optimism that the US economy would be opening for business again shortly. The number of covid-19 cases and deaths in American continue to surge.
Up until last it had just been initial jobless claims data which has been showing signs of the coronavirus hit. However, that changed, and retail sales and manufacturing are starting to show the impact of the lock down.
On Monday, the safe haven dollar is rising. Data this week is expected to remain grim.US jobless claims and durable goods orders, on Thursday and Friday respectively are expected to be the two most closely watched indicators this week.
---