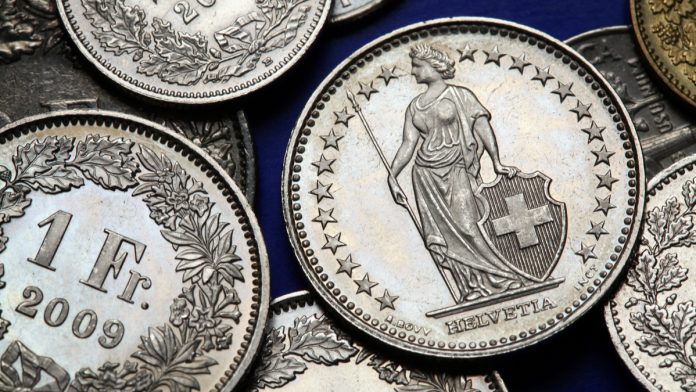 The British pound is flat against the Swiss franc on Friday.
Currency markets have lost some direction in the past few days, diverging with the ongoing strength in equity markets.
The pound has risen alongside shares (while the Swiss franc has fallen) for the past fortnight but the trend has stalled ever since the Sterling-Swissie exchange rate hit a one-month high.
GBP/CHF was down by 5 pips (-0.04%) to 1.2142 as of 5pm GMT.
The currency pair couldn't make headway beyond 1.21 and turned first lower to 1.206 before finding support and rebounding back to where it started the day. Week-to-date the exchange rate is up +0.44%.
Pound flat as Bailey says 35% drop in GDP "not implausible"
Comments from the Bank of England Governor Andrew Bailey that a "35% drop in Q2 GDP in the UK is not implausible" would hardly have helped sentiment. But such figures have already been bounded around with Goldman Sachs expecting a 34% decline in the United States.
This week the two lead negotiators from the UK and the EU David Frost and Michel Barnier respectively agreed three more rounds of negotiations conducted via video link. We are still some way off from the big June summit when a decision will need to be made about whether to proceed with the trade negotiations. Many investors might still be of the opinion that went push comes to shove, the UK will extend.
Swiss franc flat after '3 Step' plan to reopen in Switzerland
The Swissie held its own on Friday despite the currency normally suffering in a normal risk-on environment. The Swiss government's "3 Step" plan to remove lockdown restrictions has won plaudits and seems to be a model that will be applied elsewhere as nations attempt a gradual re-opening of economies.
The improved mood in markets was helped by a report that Gilead Science's coronavirus medicine Remdesivir is 'very encouraging'. A clinical trial on 125 patients at the University of Chicago with coronavirus who were all given Remdesivir and all reportedly recovered within a week.
---