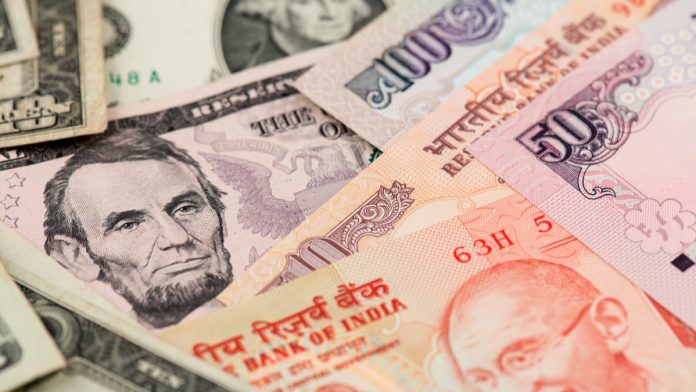 The Indian Rupee moved firmly higher versus the US Dollar on Friday as risk sentiment in the wider financial markets improved. Today's jump higher for the Rupee comes after it struck a fresh record low in the previous session of 76.87 versus the US Dollar.
At 11:30 UTC, USD/INR was trading at 76.45, mid-way through its daily traded range of 76.25 – 76.82.
Supportive Measures From RBI Lifts Rupee
The Indian Rupee is trading on the front foot after the Reserve Bank of Indian announced additional measures to sure up the Indian economy and after President Trump announced the gradual reopening of the US economy.
The Reserve Bank of India, today, cut its reserve repo rate by 25 basis points in an attempt to encourage banks to lend more. The central bank also announced additional measures to boost liquidity in the financial systems. These measures have boosted risk sentiment surrounding the Rupee.
More broadly risk was resetting after President Trump unveiled plans to gradually roll back restrictions on US businesses and reopen the US economy. The US President said it would be in the hands of the governors of each state to determine when to lift social distancing restrictions. Trump confirmed that there were 29 states which would be able to open soon.
Official data showing that China's GDP contracted by -6.8% in the first three months of the year has kept risk sentiment in check. This was below worse than the -6.5% analysts had forecast. This was the first contraction in the Chinese economy for 40 years as the coronavirus lock down wreaked havoc with the economy. However, despite the grim figures economic activity has been back on the road to normalisation since March. Both travel and factory activity are showing signs of recovery.
Despite the good news boosting the Indian Rupee, the currency could remain under pressure for some time owing to the extension of the lock down in India. The economic impact for the extension is likely to be severe.
---