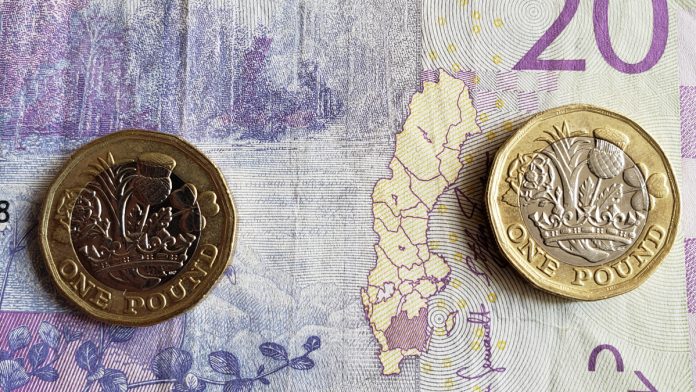 The Swedish Krona is edging cautiously higher versus the Pound in early trade on Friday, for the third straight session. The Swedish Krona settled on Thursday +0.3% stronger at 12.4943.
At 06:45, GBP/SEK is trading flat at 12.4880, at the lower end of its daily range on 12.4832 – 12.5097. The Swedish Krona is on track to have lost 0.9% of its value versus the pound across the week.
Pound Slips As Lock Down Extended
The Pound slipped in the previous session and remains on the back foot, as the British Government announced that the UK will remain under lock down for at least another three weeks. The announcement was made as the daily death toll climbed to 861 and total fatalities breached 13,000. The number of confirmed cases passed a grim milestone of 100,000, although the number of new daily infection remained steady at 4,600.
The data and the UK public are supportive of extending the lockdown, despite the alarming impact that the restrictive measures are having on the UK economy. British Retail Consortium data showed that retail sales plummeted 27% year on year in the first two weeks of lock down. This figure is a taste of what's to come and the OBRs warning of the deepest recession in 300 years doesn't look so far off.
Brexit has also come back to haunt Pound traders. The British government has said it will not accept the EUs proposal to delay the final stage of Brexit as coronvirus hampers Brexit negotiations.
Swedish Krona Lifted By Mini – Budget Spending
The Swedish Krona pushed higher in the previous session supported by news that the government will spend more than 100 billion Swedish Krona in its spring mini-budget to cushion the blow on the economy from the coronavirus outbreak. Many shops have closed, although the Swedish government has refrained from imposing a lock down.
The Finance Minister Magdalena Andersson has previously forecast that the economy would contract around 4% this year as consumption drops and the eurozone, one of Sweden's largest trading partners also falls into deep recession.
Today, the broader mood in the market is upbeat amid hopes for a coronvirus cure and the gradual reopening of the US economy. The risk on sentiment is boosting demand for riskier perceived currencies, such as the krona.
There is no more Swedish economic data this week. Investors will look ahead to unemployment and wholesale inflation data next week.
---