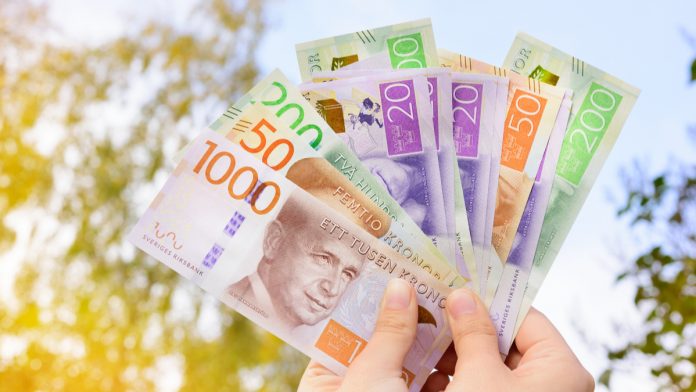 The Swedish Krona is resuming its downward trajectory on Thursday, after snapping a three-session losing streak on Wednesday.
The Pound Swedish Krona settled on Wednesday at 12.5540, -0.07% following dismal UK retail sales data.
At 06:45 UTC, GBP/SEK is trading +0.3% at 12.5691 as investors digest rising coronavirus deaths in Sweden and as the UK government is expected to extend the UK lock down.
UK Retail Sales Plunge By Record Amount
The Pound fell lower late on Wednesday following the release of retail sales data. Figures from the British Retail Consortium laid bare the impact that the government-imposed lock down measures were having on the UK high street. Retail sales plummeted by 4.5% across March, the biggest fall on since record began in 1995.
Today the UK government will extend the lock down. However, following the dire warnings from the Office of Budget Responsibility that the UK could enter its worst recession for three hundred year, the government is under pressure to map out an exit strategy.
Swedish Inflation Drops To Lowest Level in 5 Years
The Swedish Krona is under pressure as investors remain unconvinced by the government's soft approach to coronvirus. Sweden recorded 170 new fatalities bringing its total to 1,203. This was an expected surged after a low number of deaths were reported across the Easter weekend. However, the country is still refusing to go into lock down.
The Krona remained under pressure following the release of inflation data, which showed that consumer prices had slumped to their lowest level in 5 years.  Swedish inflation declined -0.2% month on month in March, down from a 0.5% increase the previous month. However, this was better than the -0.4% decline forecast. It's worth pointing out that many central banks are struggling to measure inflation with parts of the basket of goods, such as package holidays simply not being sold.
Despite the slowdown in inflation, the Riskbank said that it does not need to cut rates.
In addition, lower consumption over coronvirus concern, the huge drop in the price of oil is also contributing to softer inflation figures. Not only is the price of oil important because it affects prices at the pumps, but Sweden also exports oil. Weaker prices could drag on the krona.
---