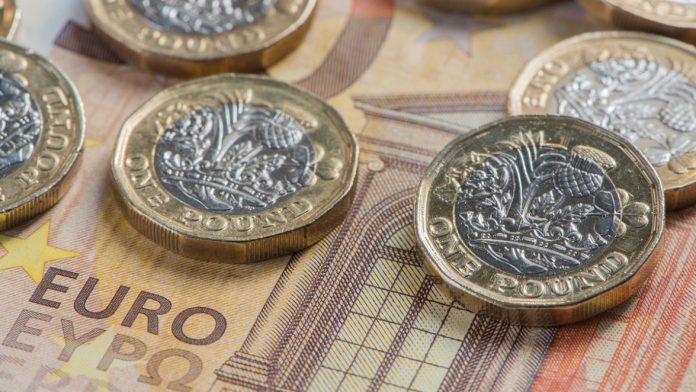 The British pound is flat against the euro on Wednesday.
Deteriorating global risk sentiment led by a downturn in oil prices hurt the British pound which is coming off the back of a furious 3-week recovery from multi-year lows.
The euro was under pressure with Germany reportedly planning to extend social distancing measures until May 3.
Renewed demand for the US dollar meant both currencies fell versus the greenback (GBP/USD & EUR/USD).
GBP/EUR was lower by 14 pips (-0.13%) to 1.1624 as of 5pm GMT.
The currency pair tanked from yesterday's high near 1.15 to less than 1.145 but later recouped most of the losses. Yesterday the exchange rate had risen +0.29%, meaning it is still up on the week by +0.83%.
British pound down with lower oil prices
It was oil prices that seemed to be driving the downward movement in Sterling. Falling North Sea oil production means the UK is a net oil-importer so should benefit from the lower oil prices, however Sterling tends to rise when global growth estimates are more optimistic.
Yesterday the International Monetary Fund (IMF) predicted a "severe recession" this year that would be worse than the 2008 financial crisis and on par with the Great Depression of the 1930s.
Euro pressured by planned social distancing extension in Germany
Spain's coronavirus count rising to a 6-day high raised fears the restrictions had been lifted too early and might need to be reapplied in the case of a second wave of virus cases. The euro had started the week on an upbeat note as countries like Spain and Italy rolled back some of the tight lockdown restrictions.
Germany, Europe's largest economy will extend social distancing measures until May 3, a move that has not been confirmed but is also anticipated in the UK because the number of new cases is still rising and the daily death toll remains much too high.
President of the European Commission Ursula von der Leyen, in a tweet on Wednesday praised the lockdown measures across the EU and said with regard to ending the restrictions that "we recommend a gradual approach and every action should be continuously monitored."
---