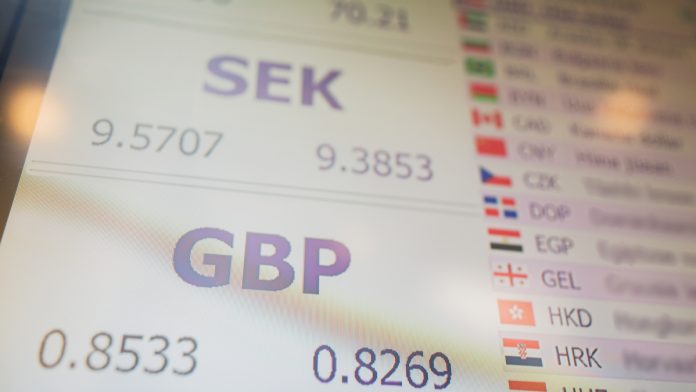 The Swedish Krona is extending losses versus the stronger Pound on Wednesday. The Pound versus Swedish Krona exchange rate jumped 0.2% in the previous session, adding to gains of 1.2% at the start of the week. The pair settled on Tuesday at 12.5633.
At 06:45, UTC, GBP/SEK is trading +0.1% higher at 12.5700 as Swedish unemployment increases and as investors look ahead to Swedish inflation data.
Pound Resilient Despite Grim Data
The Pound is advancing even as the number of coronavirus daily deaths remains elevated at 778. However, hospital admissions are falling which is lifting optimism that the social distancing and lock down measures are working and slowing the spread of the virus.
However, these very same measures which are protecting the public are wreaking havoc with the UK economy. The Office of Budget Responsibility warned that the UK economy could be heading for its worst recession in three hundred years. The OBR predicts that the UK economy will contract by 13% across the year. During the period of April – June alone, the economy could shrink by 35% with unemployment more than doubling to 10%.
Despite all the horrifying forecasts there was a piece of good news. The OBR expects the UK economy to bounce back in 2021. The OBR also pointed out that these figures were not formal forecasts given that no one knows how long the lock down will soon for and what the UK government's exit strategy is.
Swedish Unemployment To Hit 10%?
Sweden recorded 1000 coronavirus deaths on Tuesday. A grim milestone and one that brought the spotlight firmly back to Sweden's decision not to lock down, as other countries in Europe and across the globe chose to do.
Despite Sweden opting to not lock down, its economy is still vulnerable to recession and high unemployment given the economic slump expected in Europe and across the globe. Data today showed that the level of unemployment ticked higher to 7.6%, up from 6.9%. The Swedish Labour board warned that unemployment could hit 10% in the coming months.
Today Swedish inflation data could attract some attention. Despite no lock down analysts are expecting inflation to decline by -0.4% month on month in March, down from a 0.5% increase in February on lower consumption and falling oil prices. Weak inflation can drag on the value of a currency.
---