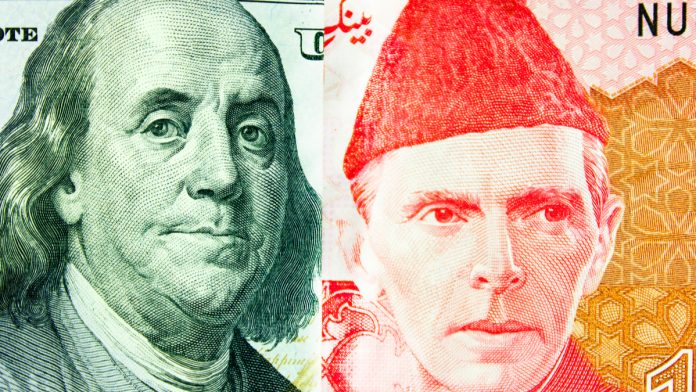 The Pakistani Rupee is edging lower again versus the US Dollar on Monday, extending losses after weakening over the past 5 weeks. Last week the Pakistani Rupee closed at 166.52 up from its all-time record low of 168.45 hit the week before. However, the Rupee was 1.3% weaker across the week.
Today at 10:00 UTC, USD/PKR is trading at 166.60. This is mid-way through the daily range of 166.10 – 167.30.
Pakistan Rupee Drops On Falling Oil Prices
Broad risk off sentiment is weighing on the Pakistani Rupee on Monday as the number of global coronavirus cases continue to climb, and concerns emerge over China's recovery in trade. China is expected to report that imports and exports have slumped 10% in March. China is a key trading partner to Pakistan. Weakness in the Chinese economy is bad news for Pakistan.
The Pakistani Rupee has also crashed lower across previous weeks amid fears of the economic impact of the coronavirus lock down measures and as the price of oil tumbled. Pakistan is an oil importing country. This means that a drop in the price of oil lowers inflation expectations.
Oil has tumbled from $55 prior to the coronavirus outbreak to a low of $19.50 per barrel last week. Today oil is paring earlier gains after the OPEC+ group agreed historic price cuts. Investors are nervous that the cuts don't go far enough to compensate the huge hit to demand that oil is experiencing amid the global coronavirus lock down.
Today Pakistan is looking towards its lock down exit strategy, as the cost of shutting down the economy start to mount. Pakistan's command and control authority, led by Imran Khan is due to meet today to decide whether to extend the lock down beyond April 15th. The broad expectation is that the lock down will be extended for an additional 10 days. This will then be followed by a phased plan to reopen some industry, particularly in the construction and export sectors.
Pakistan has recorded 5,374 cases of coronavirus. The death toll is 93. However, there is a growing concern that people are dying from hunger as a consequence of the lock down.
---