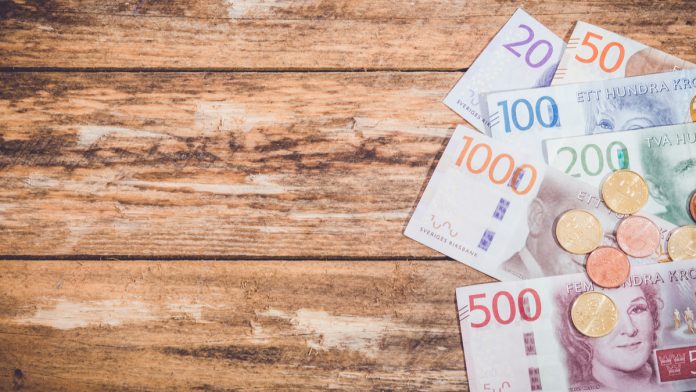 The Swedish Krona is edging lower in early trade on Friday after rallying hard versus the Pound in the previous session.
The Pound versus Swedish Krona exchange rate dropped 0.6% to settle at 12.3968.
Today at 06:45 UTC, GBP/SEK is trading +0.1% at 12.3977 in what is expected to be a relatively quiet trading day given that European markets are closed for Good Friday and the long Easter holiday weekend.
There is no economic data due to be released from either Sweden or the UK, therefore coronavirus data and sentiment is expected to drive trading.
UK Economy Slows Prior to Coronavirus Outbreak
The Pound is edging cautiously high in early trade on Friday as news that UK Prime Minister Boris Johnson is out of intensive care is being offset by news of 881 daily coronavirus fatalities indicating that the UK still hasn't peaked and therefore must remain in lock down.
Foreign Secretary and acting Prime Minister Dominic Raab said that more data was being collected and that he did not expect to be able to say more about the lock down until late next week. The longer that the lock down continues, the harder the economic impact will be.
The Pound fell versus the Swedish Krona in the previous session after data revealed that the UK economy was on shaky ground even before the coronavirus outbreak. Data from the Office of National Statistics showed that the GDP in the three months to February grew a lacklustre 0.1%. Meanwhile, economic growth in February contracted -0.1%. Put simply, the UK economy was in bad shape prior to the economically damaging lock down
Swedish Krona Slips As Covid 19 Deaths Rise
The Swedish Krona has advanced this week despite questions being raised over Sweden's relaxed approach to the coronavirus outbreak. Sweden is one of the only countries in Europe which isn't on lock down, with school, restaurants and bars still open.
However, the Swedish is under pressure today after a jump in its coronavirus related death toll. The number of coronavirus related fatalities jumped to 809, whilst the number of confirmed cases is 9,245. This puts the death rate at 8.7%. This is considerably higher than the other Scandinavian countries which adopted a much stricter lock down regime.
Investors will continue to play close attention to coronavirus statistics.
---