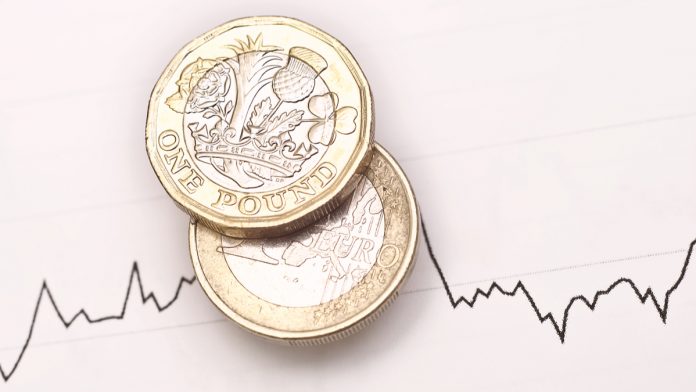 The Euro is slipping lower in early trade on Wednesday, after closing the previous session flat versus the Pound.
The Pound versus Euro exchange rate settled on Tuesday at €1.1322 some 40 points off the high of the day.
At 06:30 UTC, GBP/EUR is trading +0.2% at €1.1334. The mood in the market remains cautious as concerns over the spread of the coronavirus outbreak returned and as the Eurogroup struggle to agree a joint plan to stem the coming recession.
UK Fatalities Jump
With no high impacting data on the UK economic calendar, coronavirus statistics are driving the Pound. The Prime Minister Boris Johnson remains in intensive care and his condition is said to be stable, which is helping to underpin sterling. Foreign Secretary Dominic Raab has picked up the reins and so far, Pound investors are satisfied with his performance.
The number of coronavirus related deaths in UK increased by a record 786 to 6,159 cases on Monday. Sor far 55,242 people have tested positive in the UK – an increase of 3,634.
The UK Government's chief scientific adviser said that the number of coronavirus cases in UK "could be moving in the right direction". He said that there was a chance that the curve is flattening. However, he also cautioned that it was too early to call the peak.
The UK is still behind the curve as far as testing is concerned. Britain is struggling to carry out 15,000 tests per day whilst Germany is testing as many as 50,000. Testing is likely to play a key part in an exit strategy from lock down. However, until testing is ramped up the UK will remain on lock down.
Eurogroup Meeting
The finance ministers of Eurogroup met on Tuesday to come up with a proposal on the Union's exit from the coronavirus crisis. Division have been deep in the group, with those hardest hit by coronavirus, Italy and Spain calling for euro wide bonds. Meanwhile the more conservative north, including Germany and the Netherlands have strongly opposed. There has not been any official statement on what action was agreed.
Today there is no high impacting Eurozone data. Investors will continue to monitor coronavirus statistics. The daily death toll in Germany and Spain jumped on Monday.
---