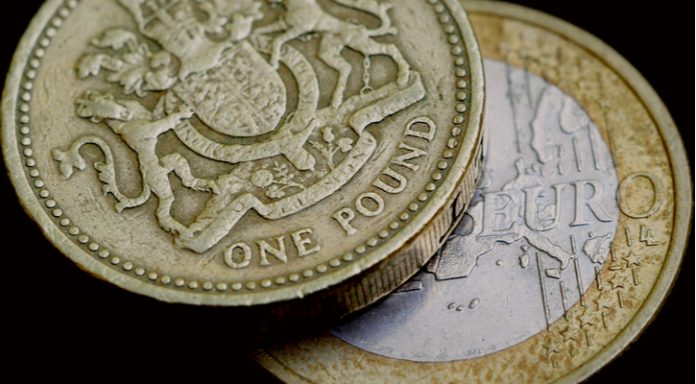 Pound (GBP) gains as economic optimism grows
Brexit Article 16 fears limit GBP gains
Euro (EUR) eases, inflation reaches record high
Eurozone Sentix investor confidence data due
The Pound Euro (GBP/EUR) exchange rate is rising at the start of the week, building on gains from the previous week. The pair gained +0.5% across last week, settling on Friday at €1.1955 towards the high of the week. At 05:45 UTC, GBP/EUR trades +0.3% at €1.1991.
The Pound advanced for the fifth consecutive week last week, as fears surrounding Omicron continued to ease. Markets are monitoring the COVID situation carefully and optimism is growing that the economic damaged caused by Omicron could be contained. This could enable the Bank of England to consider raising interest rates further in order to control surging inflation.
Adding to the supportive mood towards the pound, a survey by PWC revealed that British manufacturers remain optimistic, with 73% believing that conditions in the sector would improve. A separate survey by Deloitte revealed that major British companied planned a surge in investment in 2022 to meet strong demand.
Meanwhile, Brexit concerns limit the upside on the pound as the newly appointed Brexit Minister Liz Truss said that Article 16 was still on the table. The EU have said that they are not impressed with the UK's readiness to trigger Article. The two sides will meet for talks again later this week.
The Euro strengthened versus the pound at the end of last week after data showed that eurozone inflation hit a record high of 5% year on year in December. The preliminary data was up from 4.9% recorded in November.
The increase is owing to surging energy prices and raises questions over the European Central Bank's approach to sky high inflation.
In December the ECB announced that it would cut its monthly asset purchases but would continue to unprecedented level of stimulus in 2022.
Looking ahead, Eurozone Sentix investor confidence data could drag the euro lower. Analysts are expecting sentiment to edge lower in January to 12 from 13.5 as rising prices and rising COVID cases hurt morale.
---