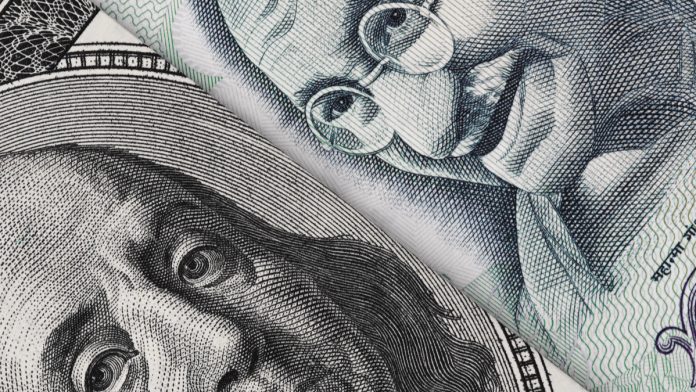 Indian Rupee (INR) rises after losses yesterday
JPMorgan Stanley will include the country's bonds in its EM index
US Dollar (USD) rises versus its major peers
US PMI data is due later
The US Dollar Indian Rupee (USD/INR) exchange rate is falling, snapping a 5-day winning run. The pair rose +0.05% in the previous session, settling on Tuesday at 83.31. At 10:30 UTC, USD/INR trades -0.2 at 83.14 and trades in a range of 83.13 to 83.84.
The Indian rupee is gaining ground After JP Morgan said that it would include the country's bonds in its emerging market index. Inclusion in the index will begin on June 28, 2024, extending over 10 months with 1% increments and its index weighting.
Some analysts believe that the up move in the Rupee could be short-lived given other risk factors in the global market including oil prices
Oil prices have risen sharply over recent months, rising from $72 a barrel in June to current levels of above $90 a barrel. The Indian government said that rising oil prices are a concern for the Indian economy but also confirmed that the outlook remained bright as prices of some key foods retreat.
The US Dollar is falling across the board. The US Dollar Index, which measures the greenback versus a basket of major currencies, trades -0.1% at the time of writing at 105.10, marking the fourth straight day of losses.
The US dollar is heading higher and is set to book gains across the week, which will mark the 10th straight week of gains, the longest rally for the greenback since 2012.
The US dollar has been supported this week by a hawkish Federal Reserve, which pointed to higher interest rates for longer. U.S. 10 and 5-year treasury yields have risen to the highest level since 2016.
Meanwhile, stronger-than-expected US jobless claims data yesterday added to the bullish case for the US dollar jobless claims unexpectedly fell to an 8-month low of 201,000, down from 220,000 in the previous week. The data highlights persistent strength in the US labour market despite the Federal Reserve's aggressive monetary tightening policy
Looking ahead, attention will be on US PMI data, which is expected to show that US services expanded at a slightly faster pace of 50.6 up from 50.5, and manufacturing activity contracted at a slower pace, with the PMI rising to 48 in September from 47.9.
Strong PMI data could show that the  US economy is holding up better than expected and could fuel the higher rates for longer narrative.
---