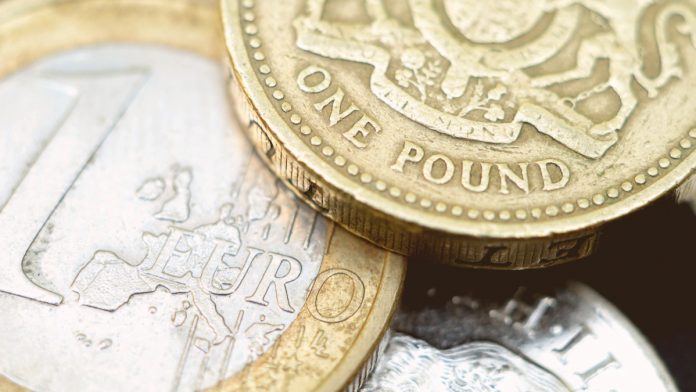 Pound (GBP) looks to PMI data
IMF forecasts GDP contraction 2023
Euro (EUR) awaits inflation data
Eurozone GDP rises 0.1% in Q4
The Pound Euro (GBP/EUR) exchange rate is holding steady after two das of losses. The pair fell 0.47% in the previous session, settling on Tuesday at €1.1332, after trading in a range between €1.1323 – €1.1401. At 05:45 UTC, GBP/EUR trades +0.0% at €1.1332
The pound fell yesterday after the International Monetary Fund painted a bleak picture for the UK economy. The IMF now expects the UK economy to contract by 0.6% in 2023 rather than grow as the fund had previously forecast. the IMF cited high energy prices, high mortgage costs, rising taxes, and persistent labour shortages as the reason full the contraction.
The UK is the only country in the G7 that is expected to contract in 2023, pulling the pound lower.
Also weighing on the pound was data that showed that UK public inflation expectations cooled again in January. Expectations for five to 10 years ahead for inflation cooled to 3.5% down from 3.6% in December. This is now just mildly ahead of the 3% -3.4% seen before the pandemic hit.  This news will be welcomed by the BoE ahead of the rate decision on Thursday.
Attention will now turn to UK manufacturing PMI data which is expected to confirm the preliminary reading of 46.7 in January, up from 45.3 in December. This is still well below 50, the level that separates expansion from contraction.
The euro raising the previous session after GDP data showed that the eurozone economy narrowly avoided falling into recession at the end of last year. The fourth quarter GDP reading was 0.1%, ahead of the new point 1% contraction that analysts had forecast, although it was still down from 0.3% growth in Q3.
The prize grace came after the German GDP unexpectedly contracted in the same three months. Yesterday German retail sales data also showed that failed humbled 5.3% month on month in November.
Looking ahead, attention will be on the eurozone PMI later, in addition to inflation data from the block. Inflation is expected to cool slightly 29 points 1% year on year in January, down from 9.2% in December. The data comes ahead of the ECB meeting on Thursday when the central bank is expected to raise interest rates by 50 basis points.
---