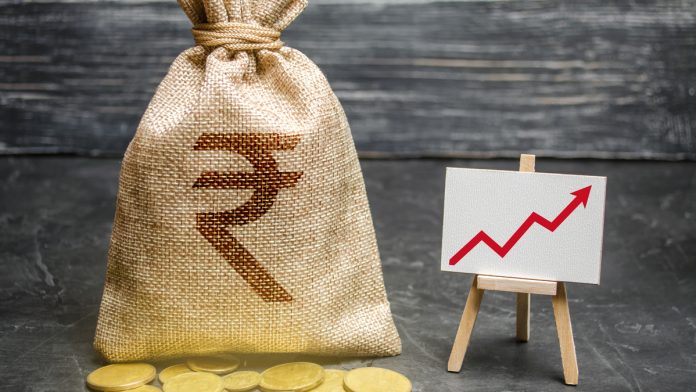 Indian Rupee surges following a 2-day sell-off
India Central Bank hikes rates to 5.4%
The US economy showing signs that the labor market is cooling
US NFP job growth expected to soften to 250k
Indian Rupee strengthened in opening trade on Friday interrupting a two-day sell-off. At the foreign exchange market, the value of the Rupee depreciated by 5 paise on Thursday settling down -0.05% at 79.09 against the US dollar. The USD/INR exchange rate was seen trading on Friday within a trading range of 79.19 and 78.79.
Currently, one US dollar buys 79.11 rupees, up 0.03% as of 7:00 AM UTC.
The central bank of India raised the key interest rate by 50 basis points to 5.4% up from 4.9%. This is the second consecutive 50 basis points hike by the RBI, which aims to ensure inflation remains under control. The annual inflation rate in India skyrocketed to 7.79% in April – the highest inflation reading since May 2014.
Meanwhile, US weekly jobless claims increased more than the market expectation to 260k up from 254k the Labor Department data showed on Thursday. The US dollar struggled to keep up the upside momentum in the face of the cooling of the labor market.
The dollar index, which gauges the greenback's strength against a basket of major currencies, settled down -0.59% at 105.75.
Elsewhere, according to the National Stock Exchange of India, domestic institutional investors were net sellers in the local equity market worth Rs 46.79 crore while foreign portfolio investors bought shares worth Rs 1,474.77 crore. The domestic benchmark equity index NIFTY 50 settled slightly down -0.04% at 17,382.00 on Thursday.
The Indian 10-year government bond yield was seen up 1.33% at 7.252%.
Looking forward, the expectation for the US nonfarm payroll jobs report is to soften to 250k new jobs added down from 372k previous reading.
---