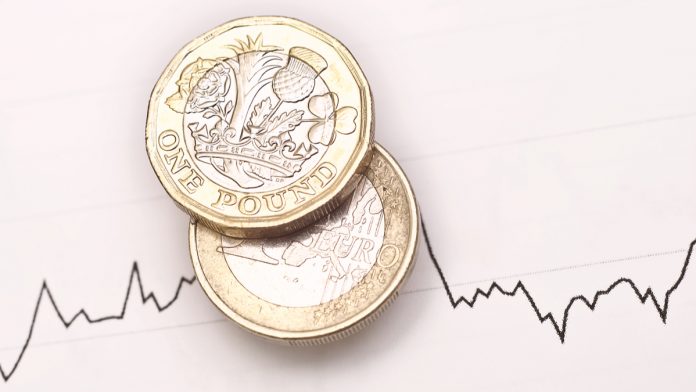 Pound (GBP) rises for a second straight session 

Concerns over the UK economic outlook have hurt GBP 

Euro (EUR) fell after Russia halted gas supplies to Poland and Bulgaria 

German inflation and Eurozone consumer confidence data is due 
The Pound Euro (GBP/EUR) exchange rate is rising for a second straight session. The pair settled +0.5% higher on Wednesday at €1.1880, after trading in a range between €1.1810 – €1.1918. At 05:45 UTC, GBP/EUR trades +0.20% at €1.1906.  
The Euro plunged across the board in the previous session after Russia said that it will cut gas supplies to Poland and Bulgaria in the latest escalation of tensions between Russia and the EU and as Putin weaponises energy supply.
The move by Russia highlights the vulnerability of Europe amid its reliance on Russian oil and gas. German has said that a restriction on Russian oil would be manageable. However, it would also likely send the German economy into a recession.
Adding to the euro's woes German and French consumer confidence fell by more than expected amid the ongoing Russian war and surging inflation.
In German, the eurozone's largest economy, consumer sentiment fell to a record low while French consumer sentiment declined to its lowest level since 2018.
Looking ahead today will see the release of eurozone consumer confidence data, which is expected o show deterioration and ahead of German inflation data. Analysts are expecting inflation to rise to a new record high of 7.5% year on year. High inflation could mount pressure on the still relatively dovish Christine Lagarde to hike rates.
The Pound pushed higher yesterday after five days of weakness as bears paused for breath. The pound has been trading under pressure this week as the market reins in expectations for a hawkish Bank of England.
Money markets price in a 144 basis point rate increase which is down from the 160 basis point rate increase across 2022 previously expected.
Again, there is no high impacting UK data due to be released meaning that the pound could be influence by sentiment.
---