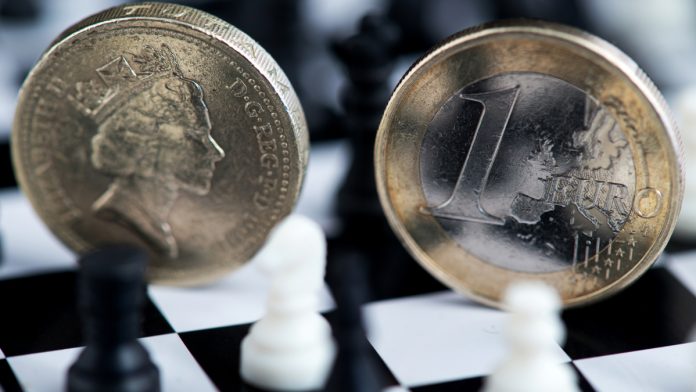 Pound (GBP) falls ahead of BoE meeting later in the week
Stagflation fears grow
Euro (EUR) rises on Ukraine crisis progress
ECB was more hawkish than expected
The Pound Euro (GBP/EUR) exchange rate is falling at the start of the week. The pair rose on the last two days of last week but actually lost -1.3% across the previous week settling on Friday at €1.1945 after reaching a 5 year high of €1.2194. At 05:45 UTC, GBP/EUR trades -0.14% at €1.1930
The Euro gained across last week, the week that the European Central Bank announced that it would wind up its Asset Purchase Programme (APP) at a faster rate than initially planned amid concerns that inflation could stay high for longer.
The ECB said that the bond-buying programme will end in the third quarter of the year, as long as the data supports it. The move was more hawkish than what investors had been expecting. Although interestingly the euro actually fell following the announcement as the ECB also warned on growth. The market was concerned over the ECB hiking rates in the face of slowing growth amid the fallout from the Ukraine crisis.
The euro is advancing today as risk sentiment cautiously improves on renewed hopes that peace talks will bring a diplomatic end to the war, despite news that Russia asked China for arms.
Broadly speaking the Pound has fared better than the euro since Russia invaded Ukraine, given that the UK isn't so dependent on Russia's energy or trade. The UK is also applying further sanctions to Russian investors including Roman Abramovich and Oleg Deripaska.
The pound rose on Friday after GDP data revealed that the UK economy grew at 0.8%, ahead of the 0.2% that investors had forecast.
Looking ahead this is a key week for the pound as investors await the Bank of England interest rate decision on Thursday. Expectations are rising that the BoE will hike rates for a third time in three months as the UK, like the eurozone, is also at risk of stagflation, with growth expected to slow and inflation continue rising with commodity prices.
---