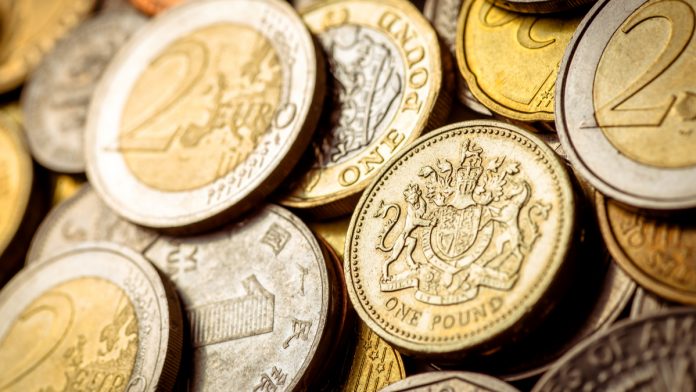 Pound (GBP) rises versus the euro and the USD
British government imposes sanctions
Euro (EUR) falls as fears over conflict rise
German retail sales, inflation & PMIs
The Pound Euro (GBP/EUR) exchange rate advancing on Tuesday, building on gains from the previous session. The pair rose 0.53% on Monday, settling at €1.1957, towards the high of the day.  At 05:45 UTC, GBP/EUR trades +0.25% at €1.1983.
The Pound rose against the euro as investors continued to watch developments as Russia continues its assault on Ukraine. The UK, along with the US and Europe stepped up the level of sanctions that it was hitting Russia with. The sanctions have been primarily aimed at the financial system.
Today, news surrounding eastern European geopolitics will continue to drive the pound, in addition o the manufacturing PMI, which gauges activity in the sector. His is the final reading for February, and is expected to confirm the previous 57.3 level, whereby 50 separates expansion from contraction. This is the final reading, so it is not usually a market moving as the initial reading.
The euro came under pressure in the previous session amid growing concerns over the escalating Russia, Ukraine invasion. The West cut Russia off from the SWIFT international payments system and also froze the Russian central bank reserves. The move sent the Russian rouble tanking 30% and Putin put his nuclear forces on standby.
Fear of retaliation by Putin, in addition to concerns that Russia could slow its energy supply to Europe. Trade is also being affected as more sanctions are applied to Russia, which continues to defiantly attack Ukraine. Fears of stagflation – rising inflation and slowing growth are unnerving the investors.
Looking ahead there is plenty of eurozone data for investors to digest. German retail sales are expected to recover after a dismal December when Omicron was spreading, German inflation could also tick back up to 5.1% after falling to 4.9% in December.
PMI manufacturing data is expected to confirm the initial estimate of 58.4, down slightly from 58.7 in December.
---