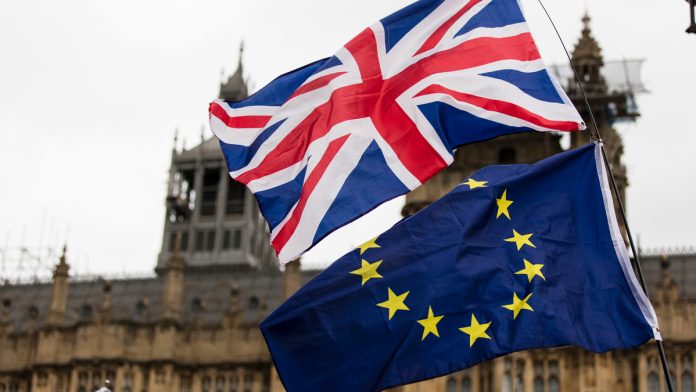 Pound (GBP) experiences heightened volatility amid Brexit uncertainty
Brexit trade talks continue but large difference remain
Euro (EUR) advances after better than expected EZ investors sentiment data
German ZEW sentiment data & EZ Q3 GDP (3rd estimate)
The Pound Euro (GBP/EUR) exchange rate is extending losses on Tuesday. The pair settled -0.2% lower on Monday at €1.1046, after recovering from the session low of €1.0941 earlier in the session. At 05:15 UTC, GBP/EUR trades -0.25% at €1.1018.
Brexit unsurprisingly has been the key driver of the Pound so far this week. The Pound experienced high levels of volatility as investors traded from headline to headline. Fears of a no trade deal Brexit after UK Prime Mister Boris Johnson threatened to leave the negotiating table sent the Pound tanking lower across the board.
Sterling then recovered on news of a meeting between UK Prime Minister Boris Johnson and European Commission President Ursula von de Leyens and following a joint statement that confirming that a deal hasn't been reached but that talks will continue.
However, expectations of a trade deal are falling whicgh is dragging on demand for the Pound
If no agreement has been reached by the end of Wednesday, EU Chief negotiator Michel Barnier and his UK counterpart Lord Frost are expected to say that the process has reached its limit. Failure to agree a deal will mean that the UK and the EU will trade on unfavourable World Trade Organisation terms. This will be a blow for the UK economy just as it is trying to get over covid.
The Euro received a boost from a surprise jump in investor morale. Investor sentiment in the bloc rose by more than expected in December, hitting its highest level since February thanks to optimism that the covid vaccines will boast the economy over the coming months.
German industrial production posted a solid gain of 3.2% in October up sharply from 1.6% in September. The data comes following solid German Factory data last week, highlighting theresiliemce of the sector despite a rising covid cases and tightening lockdown restrictions.
Looking ahead the German ZEW sentiment survey will be in focus, in addition to the third reading of the Q3 GDP.
---