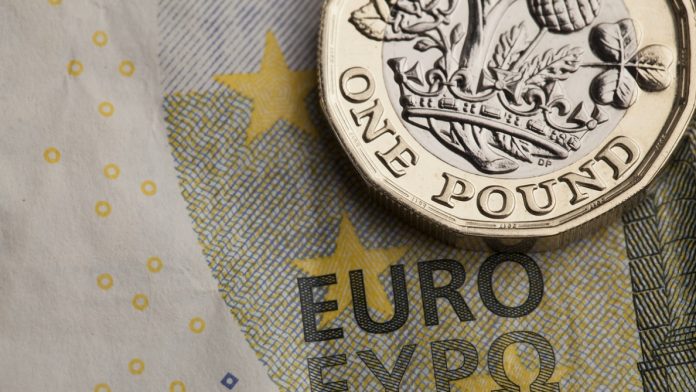 The Pound (GBP) advances as the UK economy will reopen 2nd December
UK PMIs to show business activity contracting in lockdown
Euro (EUR) under pressure as covid cases rise & ECB expected to ease in December
Eurozone PMIs to shows marked deterioration
The Pound Euro (GBP/EUR) exchange rate is advancing on Monday adding to gains from the previous week. The pair gained 0.5% across the previous week, settling on Friday at €1.1202, close to the high of the week of €1.1219. At 05:15 UTC, GBP/EUR trades +0.2% at €1.1219.
Confirmation from the British government that the UK will ease lockdown restrictions from 2nd December has boosted the Pound at the start of the week. With the economy once again throwing its doors open to gear up for the key festive trading period.
Attention will be on UK manufacturing and service sector PMI repots. The UK economy has proved to be resilient, strengthening after the March / April lockdown. However, this strength eased slightly in October as fresh lockdown restrictions in part of the UK came into force. The data is expected to show a continued weakening in November reflecting the fallout from the national lockdown across the UK which started on 5th November.
There are several key themes for the Pound this week. Brexit will remain under the spotlight as another soft deadline approaches. Also the Chancellor will be giving the speeding review on Wednesday, which will be closely eyed.
The Euro has come under pressure recently amid rising covid cases, tightening lockdown restrictions and broad expectations that the European Central Bank will ease monetary policy in December.
Whilst the UK is planning to end lockdown in 10 days, Germany's, the Eurozone's largest economy will extend its lockdown-lite measures until December 20th in a bid to contain the second covid wave. Bars and restaurants will remain closed but schools and shops will remain open.
Attention will shift to the manufacturing and service sector PMI due to be released shortly. Preliminary readings for November business activity are expected to be dismal owing the resurgence of covid and second round of lockdown restrictions. Last months readings showed a slight decrease, this month's readings are expected to show a significant deterioration in activity level.
---