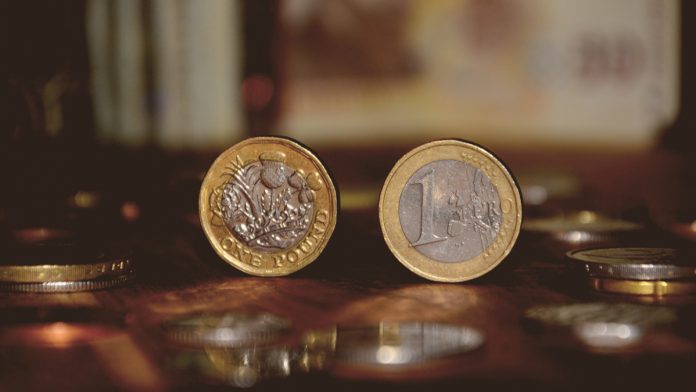 Pound (GBP) trades comfortably above €1.11
Brexit talks have still not managed to over come sticking points, including fishing waters
PMI services data in focus for both EZ &UK
Euro (EUR) could fall on deeper contraction in the sector
The Pound Euro (GBP/EUR) exchange rate is ticking a few pips lower in early trade on Wednesday. The pair rallied a solid 0.4% in the previous session, settling at €1.1145, at the high of the day. At 05:15 UTC, GBP/EUR trades down 5 pips at €1.1140.
The Pound managed to rally in the previous session, despite disappointing Brexit headlines. The EU and the UK have so far failed to reach an agreement on the three points which have been the sticking points in talks for months. The admission from both sides indicates that a deal is still some way off. However, the fact that the two sides are still talking is being viewed as encouraging.
Attention will turn towards the services PMI which are due to be released. The service sector has been harder hit in the pandemic than the manufacturing sector. The recovery of the service sector has also been more fragile as social distancing measures continue to impact on many businesses. Analysts are expecting a confirmation of the initial October reading of 52.3, whereby 50 separates expansion from contraction. Weakness in the serve sector is more concerning given that it is the dominant sector in the UK economy.
Looking ahead the Bank of England is due to make its monetary policy announcement tomorrow. Additional stimulus to the tune of £100 billion is expected.
Attention will now turn towards the services reading for the Eurozone. While the manufacturing sector proved to be resilient in October, that isn't expected to be the case for the service sector. Analysts are expecting to see the PMI at 46.2, a deeper into contraction that in September, as tightening lockdown restrictions choke the sector.
With France and Germany, the largest Eurozone economies heading into lockdown for a month, the November figures is expected to be worse still. A weaker than forecast print could drag on the value of the Euro.
---