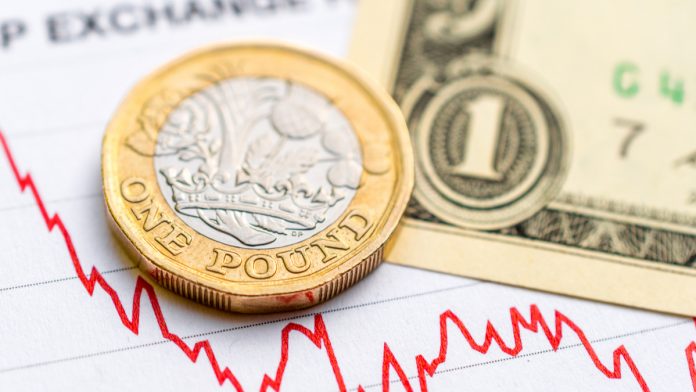 Pound (GBP) maintains losses despite UK GDP upward revision to -19.8% from -20.4%
Rising covid cases raise fears of tighter lock downs
US Dollar (USD) was relatively unmoved in election debate but is slipping on fears of delayed election results
US ADP private payrolls in focus
After rallying at the start of the week, the Pound US Dollar (GBP/USD) exchange rate is moving lower on Wednesday. The pair settled -+0.25%% lower on Tuesday at US$1.2861 after failing to hold onto the break above US$1.29. At 06:15 UTC, GBP/USD trades -0.15% at US$1.2840, towards the lower end of the daily traded range.
UK GDP was upwardly revised to -19.8% from -20.4% in the April – June period, the worst affected by covid lockdown. Despite the upward revision this is still the worst contraction recorded.
Rising coronavirus numbers in the UK are adding to a growing list of concerns for Pound investors. The number of new daily coronavirus cases hit 7,143 and the daily death toll increased to 71. Liverpool is reportedly just days away from a 2-week circuit breaker complete lockdown. Areas across the North East of the UK seeing cases continue to rise and tighter restrictions implemented.
The US Dollar was broadly unmoved by the Presidential election debate between current President Donald Trump and former vice President Joe Biden. The debate was broadly unimpressive, at times on the brink of out of control, as both Trump and Biden failed to make strong points.
Perhaps the key take-aways were that Biden's single hour fundraising record was broken with $3.8 million taken as the debate concluded and President Trump warning that the election result may not be available November 3rd and might not be known for months. The prospect of an uncertain election outcome is unnerving investors, boosting demand for the safe haven US Dollar.
Attention will turn towards the US economic calendar, with the release of US GDP data and ADP private payrolls. Analysts are expecting 648,000 new jobs were created in the private sector in September, up from 428,000 in August. An increase in job creation is a posiive sign ahead of Friday's non farm payroll report.
---