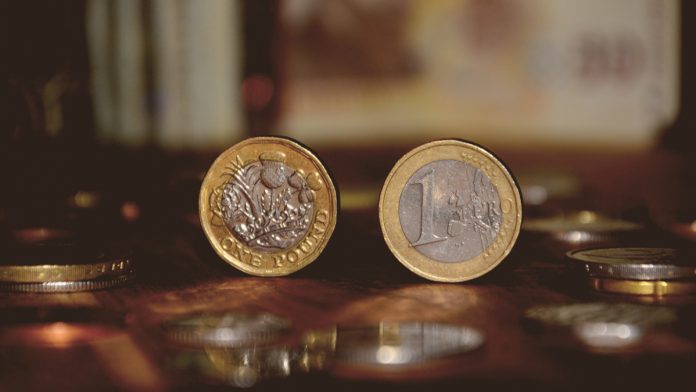 Car sales increase 11% in first full month that car dealership reopened
Pound (GBP) investors look to service sector PMI data
Euro (EUR) advanced in previous session following upbeat producer price data
Eurozone service sector PMI in focus, Spain under the spotlight
The Pound Euro exchange rate is trading mildly higher ahead of the London open. The pair settled -0.3% lower on Tuesday at €1.1173. At 05:15 UTC, GBP/EUR trades +0.1% at €1.1183
New car ownership rose 11% year on year in July, in the first full month that show rooms were allowed to open after lockdown measures eased. This is the first increase since December, although year to date demand is still down some 40%.
Attention will turn towards the UK service sector PMI. Analysts are expecting the reading to confirm 56.6, on an index whereby 50 separates expansion from contraction. Tis is a keenly watched indicator given the dominance of the service sector in the UK economy. A solid recovery in the service sector would almost certainly mean that GDP is also heading for a solid recovery. However, any weakness could unnerve investors.
This is the final data piece before the Bank of England monetary policy announcement on Thursday. The bank is not expected to move on monetary policy, however it could adopt a more dovish tone as the government starts to taper support from the furlough scheme.
The Euro advanced in the previous session following upbeat data for the region. The Euro area producer price index rose for the first time in 5 years in June and at a faster pace than expected. The PPI increased 0.7% month on month in June, up from -0.6% in May. Analysts had forecast a 0.5% increase. On an annual basis producer prices -3.7% after 5% decline in May.
Attention will now turn to the service sector and retail sales. Analyst are expecting the service sector to confirm expansion of 55.1 in July.  In the Eurozone, the biggest concern will be the health of the service sector in Spain, a country which is heavily dependent on tourism. The decision by the British, French and Norwegian governments to advise against non-essential travel to Spain will almost certainly impact the fragile recovery in the sector. However, this won't show through until August's reading.
GBP Index Today - last 90 days
Currency Index charts show the
strength of a single currency
based on a basket of foreign currencies. This is done using a weighted mean (an average) of the 5 largest routes from that source currency and their daily FX rates. You can explore
live exchange rates here
.[/su_expand]