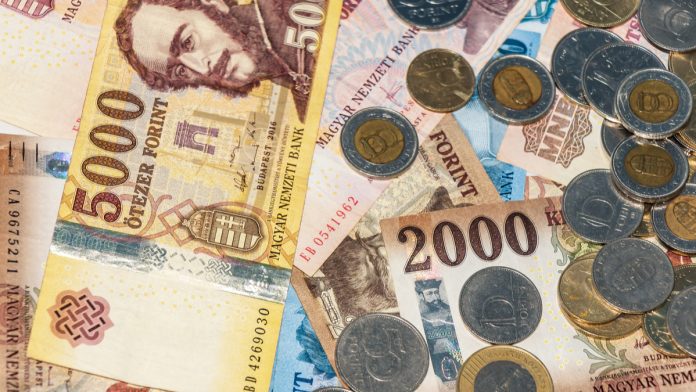 The Hungarian Forint is rebounding versus the US Dollar on Wednesday. The Forint settled 0.7% lower in the previous session at 330.45 after the National Bank of Hungary's monetary policy meeting.
At 09:15 UTC, USD/HUF is trading -0.7% at 327.89. This is at the lower end of the daily traded range of 327.89 – 330.67 following higher Hungarian wholesale inflation and owing to a weaker dollar ahead of the US GDP reading and Federal Reserve monetary policy announcement.
PPI +4.3% Beating Forecasts
The Hungarian Forint has pared losses from the previous session following encouraging producer price index (PPI) data. Producer prices measure inflation at wholesale level. Hungary's PPI increased 4.3% year on year in March. This was up from February's 3.8% and well ahead of analysts forecast of 2.9%.
Producer prices are important because PPI is considered a lead indicator for consumer inflation. Often a higher PPI figure points to a pickup in consumer prices later down the line. When inflation rises central banks are more inclined to hike interest rates, boosting demand for the currency.
Today's data comes hot on the heels of the National Bank of Hungary's monetary policy meeting. The central bank left interest rates on hold ay 0.9%, as expected. Earlier this month The NBH had abandoned its ultra-loose policy stance to prevent a sell off in the Forint during the coronavirus crisis.
Investors will now look ahead to gross wage data which is due tomorrow. Analysts are expecting wages to have slipped slightly in February, before the coronavirus outbreak.
-4% GDP Expected & No Moves From The Fed
The US Dollar is trending lower across the board on Wednesday as investors brace themselves for data showing that the US experienced its first economic downturn since 2014. US GDP data is expected to show that the US economy contracted -4% on an annualised rate in the first three months of the year, which included two weeks of lock down. The US economy grew by 2.1% on an annualised basis in the last quarter of 2019. A weak reading could see the US Dollar tumble as investors prepare for even worse numbers in the second quarter.
The Federal Reserve will also reveal its monetary policy announcement. The Fed are not expected to move on rates or expand the bond buying programme. However, investors will be looking for guidance from the Fed. The principal questions will be how deep does the Fed see the economic contraction going? And for how long does the Fed intend to keep interest rates at 0?
---